SET A GOAL, HUDDLE UP, AND TACKLE HUNGER!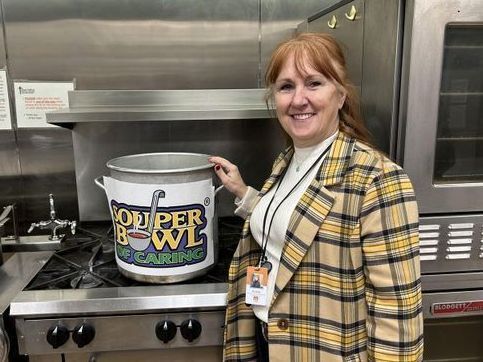 On Sunday, February 12th people will gather with friends and family all over Lincoln to watch the Super Bowl, enjoy delicious food, and cheer for their favorite team. Why not harness the energy and enthusiasm of Super Bowl weekend to unite for a higher good?
The vision of the Souper Bowl of Caring is to transform the Big Game into a nationwide movement inspiring people to give locally and make a collective impact on hunger. Churches, schools, civic clubs, families, neighbors, businesses, scouting groups and clubs are invited to collect donations for local hunger relief organizations like Matt Talbot.
Please check below for more details on how to participate!
---
What's your game plan?
#1 Collect Donations
Anyone can do this! Gather a group of people who want to participate, pick a drop-off location for donations, and start collecting! Here are some ideas of people who could participate:
Your office or co-workers
Church or church groups
Neighborhood associations
Your family
Any clubs you may be part of, such as book clubs, sewing clubs, coffee clubs, walking/running clubs, etc.
Remember, one item or one dollar per person makes a difference in our community! Needed pantry items include mac & cheese, canned meats, pasta and pasta sauce, canned fruits and vegetables, cereal, canned beans, soup, and boxed meals.
#2 Create a Contest
Have some fun! Create two teams and see who can collect the most donations. Examples of contest ideas are listed below.
Department A vs Department B (ex. Accounting vs Marketing)
Team Tuna vs Canned Chicken (Have fun with the names!)
Assign teams a certain letter of the alphabet and they can only donate items that begin with that letter. For example, Team C can only donate items that begin with C, such as corn.
#3 Facebook Fundraiser
Start a fundraiser from your phone or couch! 
Tap icon with nine dots in the top right corner of Facebook.
Tap Fundraisers under the create menu.
Next, select Matt Talbot Kitchen & Outreach as your nonprofit.
Complete the form with information on your fundraiser.

Set your goal.
Select the date for your fundraiser to end. Souper Bowl events can take place anytime during January and February.
Create a fun title for your fundraiser. For example, Tackle Hunger with Abi or Jenn's Big Game Goal.
Tell people why this fundraiser is important to you.

Click the Complete button.
#4 Get Youth Involved
Invite your kids and their friends to get involved!
Work with the youth group at your church to collect donations
Encourage the groups and teams that your children are part of to help
Ask their teachers if they would be willing to create space in their classrooms for collections!
Donations of cash, canned goods, hand warmers, or warm winter gear can be dropped off at Matt Talbot (2121 N. 27th Street) Monday - Friday between 8:30 am - 6:30 pm. If you want to arrange a specific time to drop off your donations and take a quick tour of our facility, please contact Lori Wellman at 402-817-0621. We would love to show you around! Online donations can be made here.
Have fun! And thank you for helping your neighbors in need!
---
Yes! We are planning to be part of the Souper Bowl of Caring Team!