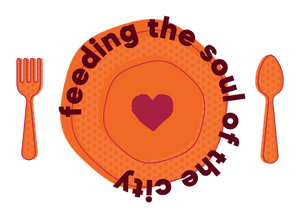 Matt Talbot Kitchen & Outreach hosted the annual Feeding the Soul of the City fundraising event on June 8, 2023 at the Scottish Rite Ballroom. Because of the generosity of 40 corporate and individual sponsors, the great crowd who attended, and the many who gave donations prior to the event, Matt Talbot raised over $144,000 which will support the day-to-day hunger relief and homeless prevention services of the community kitchen and outreach center. 
In addition to heavy hors d'oeuvres and live music from Bobby Gadoury, guests were treated to an inspiring video featuring Executive Director Susanne Blue sharing how Matt Talbot feeds the community in the broadest sense.
"In addition to food, our guests hunger for a sense of community and acceptance," said Blue.  "The meals are what bring people to us and we can meet that basic need of food thanks to our wonderful volunteers. But once they are here we can build relationships and provide many other resources such as housing and substance use services that go beyond feeding. "
Two longtime community partners, Mainelli Wagner & Associates, Inc. and Brian Barrett, were honored with Compassion in Action awards for their dedication to defeating hunger and homelessness and restoring hope among individuals and families experiencing homelessness. Mainelli Wagner & Associates, Inc. is a locally-owned engineering firm that has partnered with Matt Talbot for the past ten years by making generous financial donations as well as providing significant volunteer efforts through events such as Huskers Helping the Homeless and company-sponsored food drives. Brian Barrett has been part of our volunteer base for the past six years helping in a variety of ways including preparing meals, installing flooring, picking up donations, fundraising, cleaning the facility, and even dressing up as the Easter Bunny. 
With plans to step down from leading the organization in August, this was Blue's last Feeding the Soul of the City event as Executive Director. She received a gift from the staff and a standing ovation for her incredible dedication and commitment to the mission and vision of Matt Talbot.
It was a night of inspiration!
Feeding the Soul of the City
---
Thank you to our event sponsors!
Bold Hope Sponsors
Restoring Hope Sponsors
Housing Hope Sponsors
Giving Hope Sponsors
Sustaining Hope Sponsors