Special Note for Weekend Teams:
Keys that have been previously given to Hunger Relief teams no longer work for the back door of the kitchen. Please turn in all keys to Casey McKerlie, Kitchen Manager. A new system will be installed shortly and entry information will be communicated to all team captains. In the interim, Casey will be providing codes to team captains that need entry after hours. Any questions, please reach out to either Casey McKerlie at 402.817.0622 or Victoria O'Neil at 402.817.0623. 
---
Helpful Reminders from the Kitchen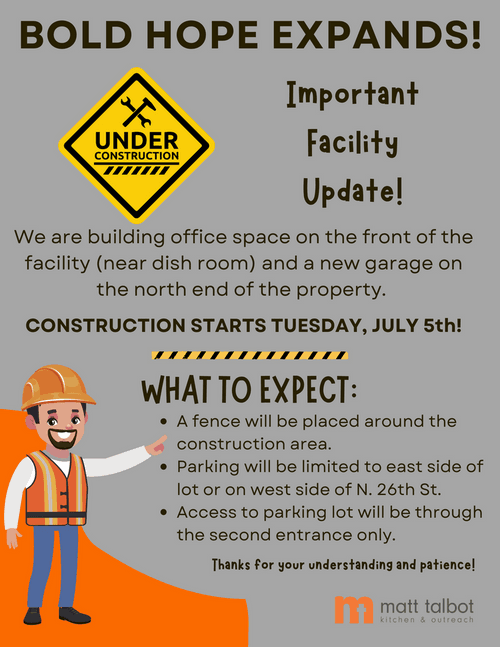 Summer is here and with the increase in the temperatures we are also seeing an increase in the amount of guests in the dining room.  Here are a few helpful hints to help your Hunger Relief Teams when volunteering at Matt Talbot.
1. Check mtko.org for MTKO Hunger Relief Daily meal totals.  Go to Relieving Hunger, Hunger Relief Volunteers, then click on Daily Meal Totals. This information is updated twice a week.
2. Casey, Kitchen Manager, also provides meal totals on the bulletin board in the kitchen.
3. Limit choices for the guests. We've found the more choices we are offering the longer it is taking for our guests to go through the line.  Teams should still be offering a balanced meal, but offer one choice in each food category.
4. With the increase in guests we are seeing teams running out of time to serve seconds.  Please be aware of the time when serving your meal. If you are still serving 1st servings at 6:15, please make an announcement that due to time restraints we will not be able to serve seconds. You can also consult with our Outreach Staff.
5. Please remember that we serve lunch until 12:30 PM and dinner until 6:30 PM. If you run out of food, please go to the walk in cooler and see what can be prepared quickly. We will be keeping emergency items in the walk in cooler, so we can ensure everyone receives a meal. Even if you are not serving seconds you need to keep the serving line open until 12:30/6:30 in case a guest comes in that has not eaten.
6. If you have any questions or concerns please feel free to reach out to Casey Beltran, Kitchen Manager at  casey.beltran@mtko.org or 402-817-0622 or Victoria O'Neil, Director of Hunger Relief and Volunteerism at victoria.oneil@mtko.org or 402-817-0623.
---
STRIVE COOKBOOK NOW AVAILABLE
This cookbook was inspired by our STRIVE Program (which started in 2014) and includes recipes for main course, soup, side dish, salad, dessert, and dressing & seasonings - all to serve 150 people!  We hope these recipes encourage and inspire you to prepare healthy meals. All recipes follow the STRIVE Guidelines:
· Seasonal (or frozen) fruits and vegetables make up half the plate
· Only lean meats are used
· At least 1/2 of the grains are whole grains
· Fat-free or low-fat calcium-rich foods are offered
· Foods served are low in sodium
There is a laminated copy of the cookbook in the Matt Talbot kitchen for anyone to use. Since we would like to keep this copy in the kitchen, we would be happy to produce a copy for your individual teams. If you would like your own copy, please contact Victoria at victoria.oneil@mtko.org or 402-817-0623.
We have many of the recipes available below. Happy meal planning!
Selected STRIVE Recipes
Ground Beef Vegetable Soup (serves 150)

45 pounds ground beef
90 celery ribs, chopped
22 medium onions, chopped
90 medium potatoes, large dice
22 (15 ounce) cans tomato sauce
22 (14.5 ounce) cans diced tomatoes
3 (72 ounce) bags of frozen mixed vegetables
2 3/4 teaspoon ground thyme
22 bay leaves
6 cups water, as needed
ground pepper to taste

Directions:
1. Cook and stir ground beef until crumbly and evenly browned. Drain off excess fat.

2. Stir carrots, celery, and onion into ground beef, cook and stir until vegetables are soft, about 5 minutes. Add potatoes, tomato sauce, diced tomatoes, frozen mixed vegetables; season with black pepper. Stir mixture until evenly mixed. Add thyme and bay leaf. Add water, replenishing as needed while cooking.

3. Bring soup to a simmer, place a cover on, and cook, stirring regularly, until potatoes are tender, about 1 hour. Remove bay leaves before serving.

Calories: 451
Sodium: 550 mg
In accordance with Federal civil rights law and U.S. Department of Agriculture (USDA) civil rights regulations and policies, the USDA, its Agencies, offices, and employees, and institutions participating in or administering USDA programs are prohibited from discriminating based on race, color, national origin, sex, disability, age, or reprisal or retaliation for prior civil rights activity in any program or activity conducted or funded by USDA.