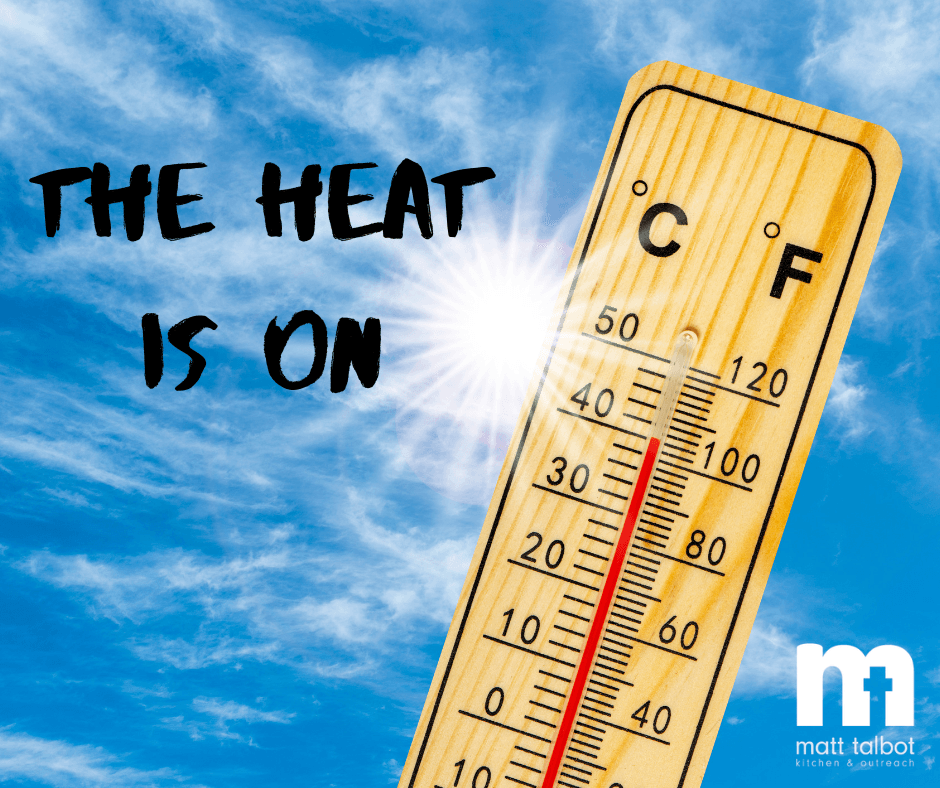 As I write this blog we are in a heat advisory and it is 96 degrees outside. And the forecast for the next several days says more of the same. Thankfully we have a beautiful and cool dining room where many experiencing homelessness can take refuge during the hottest hours of the day. Summers is by far the hardest season at Matt Talbot Kitchen & Outreach.  One reason is that it is our busiest time of year. More families with children come in for meals when school is out, more migrant workers come to the area for jobs, more transient folks pass through, you name it we see it. 
According to street outreach workers and advocates, people experiencing homelessness are already under significant stress from difficult living conditions. Adding extreme heat and humidity for long periods can reduce coping mechanisms and a person's temper may increase as patience and tolerance shorten. Several other issues may also arise as a result of extreme heat, including but not limited to:
Insomnia can increase due to intolerable sleeping conditions.
Hot temperatures can also cause some to take increased risks in order to beat the heat by swimming in dangerous and/or polluted waters, trespassing to access cool areas, drinking alcohol more heavily than normal, using drugs to escape the misery, etc.
Alcohol and coffee are diuretics which can quickly deplete the body of available fluids, while certain drugs, especially amphetamines or cocaine, create hyperthermic responses in the body under normal conditions.
The CDC also reports 3 signs of heat related emergencies. Heat cramps, heat exhaustion and heat stroke. While summertime brings with it additional concerns for those on the streets, it also brings opportunities for outreach and engagement as well. A kind face, a cool seat indoors, a bottle of cold water, and a bus pass will be greatly appreciated by those you've helped, and may even save a life in the process.  What greater reason than that is there?!
In order to beat the heat, these are items were in great need of:
Bug spray
Sunscreen
Deodorant
Cooling Towels
Another reason this is a more difficult season is that we are short on personnel and volunteers as folks take well deserved vacations.  If you would like to learn more about volunteering please visit mtko.org/volunteers or call and ask to speak to our Director of Hunger Relief and Volunteerism. The garden needs tending, grounds spruced up and help with hunger relief is ongoing. 
Thanks for your consideration!  Stay cool and safe this summer!