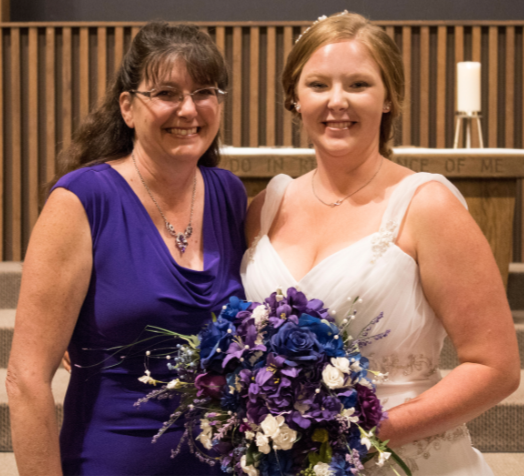 Meet Erica Peterson Siemek our March Spotlight Volunteer. 
Erica started volunteering at our old Matt Talbot location with her church when she was 8 or 9 years old. She remembers the experience mostly because she enjoyed talking with our guests and this is what got her interested in doing more. When she was in high school in Waverly, Erica started collecting clothes and bringing them to Matt Talbot.  One night when Erica was in college she was walking home on a cold and snowy night and noticed some people sleeping under a bridge and she realized she needed to do more. This is when she started collecting blankets, gloves, scarves, etc. and donating it all to Matt Talbot. Once she went to Goodwill during one of their $1 days with her Nana. They purchased cold weather wear for our guests at Matt Talbot - that was her Christmas present from Nana! Erica said the looks that everyone gave her when she came in with coats and gloves made it worthwhile.
A few years ago Erica came up with the idea of "Share a Stocking" program. Each year on Christmas Day they shower our guests with needed items along with some fun ornaments, hot cocoa and gifts. All of the donations come from the communities of Waverly and Lincoln. The value of her annual collection has reached $2500! Erica also collects items throughout the year  that our used by our Outreach Program. She enjoys that our staff can take them out to homeless individuals during street outreach.
"I like the people at Matt Talbot Kitchen & Outreach. I get to know people's stories and they love to tell their stories. As long as someone will listen with an open heart and an open mind they are willing to talk to you. I chose Matt Talbot mainly because it's where my church started out. I've worked with other places and this is the only place that I feel I can make an impact." 
Thank you Erica for giving Bold Hope to so many!