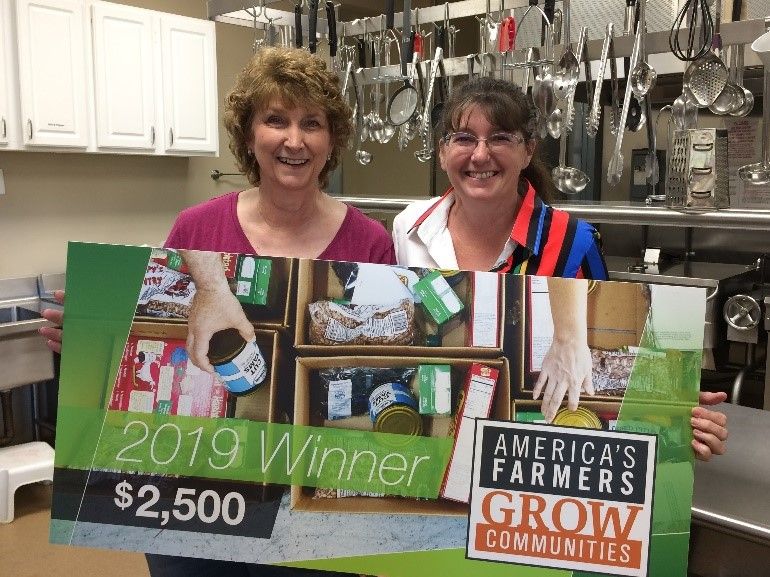 When Paula Peterson got the chance to nominate a nonprofit to receive $2,500 through the America's Farmers Grow Communities program, she knew just who to choose. Paula and her family have been helping Matt Talbot Kitchen & Outreach since daughter Erica was in high school. Paula explained, "The people here are very important to us. If we see a need or hear of one, we want to help."
One of the biggest reasons Paula and her family like Matt Talbot is "most of the people aren't looking for a handout, they're looking for a hand up." Erica has collected clothing and blankets, and her "Share a Stocking" project to give Christmas stockings to Matt Talbot guests on Christmas Day is in its fourth year.
Matt Talbot will be using the grant to provide meals during the busy summer months. Sydne Wirrick-Knox, Matt Talbot's Kitchen Manager, indicated that several of Matt Talbot's hunger relief teams take a break in the summer. Finding volunteer groups who want to serve is usually easy but those groups are not always able to provide the food. The America's Farmers Grow Communities grant will provide healthy meals for at least 1,000 people. Paula and her husband Tom farm and ranch north of Waverly, and Paula regularly donates 50 pounds of ground beef to help provide a meal. Using the America's Farmers Grow Communities gift to feed even more people is very exciting. "We're farmers. We feed people. This is an opportunity to feed people in a different way."
America's Farmers Grow Communities, sponsored by the Bayer Fund, is celebrating its 10th year of partnering with local farmers to provide grants to local nonprofits. For more information, visit AmericasFarmers.com.