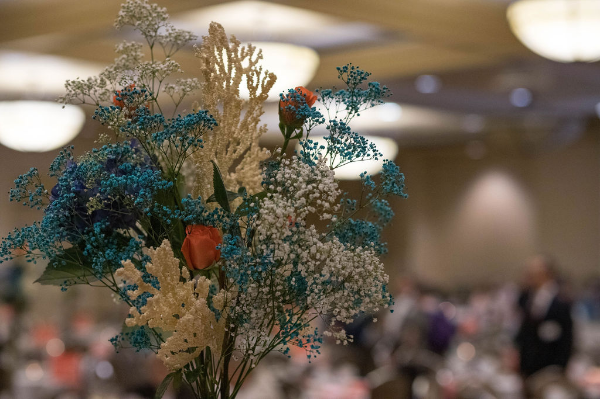 Matt Talbot Kitchen & Outreach hosted the 14th annual Feeding the Soul of the City dinner and fundraising event on March 28, 2019 at the Cornhusker Marriott Hotel.  Because of the generosity of 48 corporate and individual sponsors, the 400 guests who attended, and the many who gave donations prior to the event, Matt Talbot raised a gross total amount of over $185,000.  Money raised will support the day-to-day hunger relief and homeless prevention services of the community kitchen and outreach center. 
Jon & Taryn Vanderford from Channel 10/11 KOLN-TV served as Masters of Ceremonies and Lincoln City Councilman Carl Eskridge provided a brief advocacy message as well as the invocation. Guests were also treated to an inspiring video featuring a former Matt Talbot client who was homeless, addicted to methamphetamine and sleeping in a parking garage before entering Matt Talbot's Transitional Housing Program. Watch the video here. 
"It takes a lot of courage to tell your story, and we are grateful that Brian chose to share his so openly," said Executive Director Susanne Blue. "His story is one of transformation and hard work, and is a great illustration of the power of bold hope."
Compassion in Action awards were presented to Paul Mitchell – The School and CEDARS Youth Services. Students from Paul Mitchell have provided monthly haircuts to the guests at Matt Talbot since 2013 – a valuable service that restores dignity, confidence and hope to the homeless and near homeless. CEDARS partners with Matt Talbot in many ways to help families and at-risk children and youth including teaching a Parenting class in our Life Skills Course and operating an extensive street outreach program. The partnerships with these two agencies – who serve with a spirit of help, hope and compassion - creates effective and efficient outreach to better serve the guests of Matt Talbot. 
"Honoring our partners with Compassion in Action Awards is one of my favorite things to do.  The only way to truly meet the needs of the homeless is to work together to find solutions," said Blue. 
Serving lunch and dinner seven days a week, Matt Talbot Kitchen & Outreach is a hunger relief and outreach center for those in need.  Annually Matt Talbot provides over 110,000 nutritious meals to the hungry in Lincoln and more than 40,000 homeless prevention services such as housing, drug & alcohol evaluations, life skills classes, nutrition counseling, and help with obtaining vital identification documents.  
---
"Compassion in Action" Award Winners
Individual Category
Greg Ernst - 2018
Ram Bishu- 2017
Jim & Mary Love - 2016
Joyce Champoux - 2015
Bill & Pat Lundak - 2014
Gene "Woody" Woodhead - 2013
Senator Mike Johanns and Stephanie Johanns - 2012
Tony Ojeda - 2011
Mary Costello-2010
Scott Young-2009
Ruth McKinstry-2008
Liz Hertel-2007
Mary Jo Bousek-2006
Collaboration Category
Paul Mitchell - The School - 2019
CEDARS Youth Services/Street Outreach Program - 2019
SNAP Outreach Program: Food Bank of Lincoln and DHHS Children & Family Services Division - 2018
Dennis Hoffman-CenterPointe-2017
Beatty Brasch and the Center for People in Need - 2016
Southwood Lutheran Church - 2015
Clinic With A Heart - 2014
Lincoln Lancaster County Health Department - 2013
The Lincoln Police Department Center Team - 2012
Wynn Hjermstad & Dave Landis, City Urban Development Dept. - 2011
First Plymouth Congregational Church -2010
Lincoln Housing Authority and Consumer Credit Counselors -2009
Union College Nursing & Physician Assistant Program-2008
Community Health Endowment of Lincoln-2007
Eye Surgical Associates, Lens Crafters, & Professional Eye Care – 2006