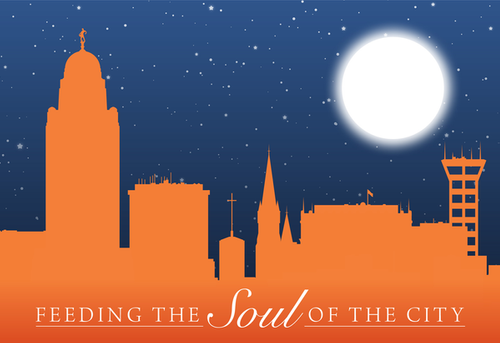 Matt Talbot Presents the 15th Annual "Feeding the Soul of the City" on March 26, 2020
Matt Talbot Kitchen & Outreach will honor the 2020 Compassion in Action Award recipients at the "Feeding the Soul of the City" dinner and fundraising event on March 26th at the Lincoln Marriott Cornhusker Hotel. This year's winners are John Turner and the St. Francis & St. Claire Hunger Relief Team.
John Turner is a longtime partner of Matt Talbot and has advocated for people experiencing homelessness for nearly thirty years through his work at Community Action (formerly Lincoln Action Program), CenterPointe, Region V and now Nebraska Investment Finance Authority (NIFA). John has been active with the Lincoln Homeless Coalition and Governor's Commission on Housing and Homelessness, and goes above and beyond to address housing barriers for people who have experienced homelessness, substance abuse and mental health challenges.
The St. Francis & St. Claire Hunger Relief Team consists of a multi-generational family that has served dinner on the 4th Thursday of every month for 20 years. Not only do they serve faithfully every month, but they prepare a homemade, nutritious and thoughtful menu which is different each time. Because of their regular schedule, the team is always at Matt Talbot on Thanksgiving to serve a traditional Thanksgiving feast with all the fixings.
All are welcome to join us in celebrating these wonderful community partners. "Feeding the Soul of the City" starts at 5:30 pm with a social hour and silent auction. The dinner and program will begin at 6:30 pm. All money raised supports Matt Talbot's continued outreach and support of the homeless, near homeless and hungry in Lincoln. Make your reservation today!
---
"Compassion in Action" Award Winners
Individual Category
Greg Ernst - 2018
Ram Bishu- 2017
Jim & Mary Love - 2016
Joyce Champoux - 2015
Bill & Pat Lundak - 2014
Gene "Woody" Woodhead - 2013
Senator Mike Johanns and Stephanie Johanns - 2012
Tony Ojeda - 2011
Mary Costello-2010
Scott Young-2009
Ruth McKinstry-2008
Liz Hertel-2007
Mary Jo Bousek-2006
Collaboration Category
Paul Mitchell - The School - 2019
CEDARS Youth Services/Street Outreach Program - 2019
SNAP Outreach Program: Food Bank of Lincoln and DHHS Children & Family Services Division - 2018
Dennis Hoffman-CenterPointe-2017
Beatty Brasch and the Center for People in Need - 2016
Southwood Lutheran Church - 2015
Clinic With A Heart - 2014
Lincoln Lancaster County Health Department - 2013
The Lincoln Police Department Center Team - 2012
Wynn Hjermstad & Dave Landis, City Urban Development Dept. - 2011
First Plymouth Congregational Church -2010
Lincoln Housing Authority and Consumer Credit Counselors -2009
Union College Nursing & Physician Assistant Program-2008
Community Health Endowment of Lincoln-2007
Eye Surgical Associates, Lens Crafters, & Professional Eye Care – 2006