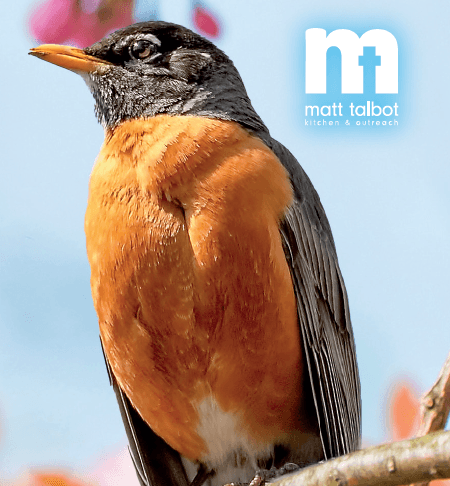 Spring greetings! I hope this message finds you well. Have you noticed the birds are coming back? The robins are waking me up with their cheerful song and hopeful attitude. Robins are a sign that spring is here, and I love to watch them take flight. Wanting to know more about these special birds I learned that a robin represents hope, renewal, and rebirth. It symbolizes new beginnings, new projects, and a sign of good things to come. No wonder I love them so much!
Matt Talbot is all about hope and renewal too. In many instances we see our guests experience rebirth. There is nothing better than seeing a formerly homeless individual thriving in their own home or a person experiencing a significant sobriety date! As far as new beginnings, we have many new staff who are full of enthusiasm and there is always a new project to work on. Right now we are planning for our 30th anniversary celebration later this year and an addition on the north side of our facility. 
In a way, I feel like our organization is experiencing a bit of rebirth itself. We are coming out of the pandemic, hopefully for good, and are seeing signs of great things to come! We have fresh eyes, open hearts, and are ready to spread our wings and let hope take flight in our service to the working poor and homeless.
Won't you join us as we let hope take flight through our daily hunger relief, housing, counseling and outreach services? Your donation, in any amount, is vital in helping those less fortunate experience renewal. Gifts such as yours provide food to the hungry, housing to the homeless, and hope for better days. Please click here to give today.
With gratitude,
Susanne Blue, MSW
Executive Director