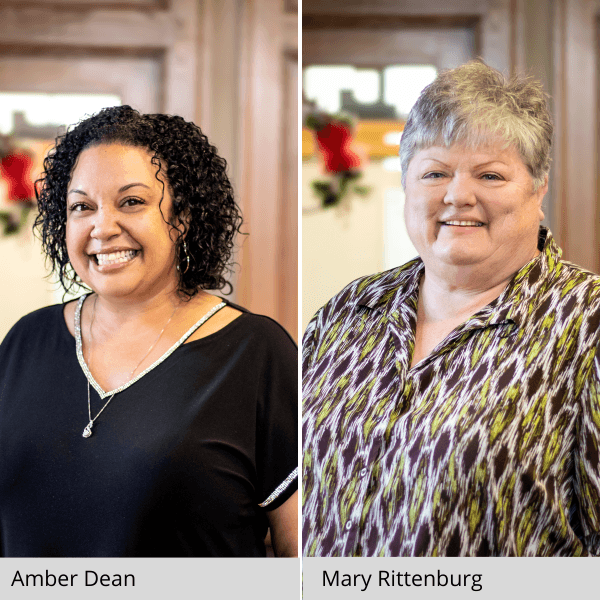 Matt Talbot Kitchen & Outreach is happy to introduce our two newest staff members, Mary Rittenburg and Amber Dean. 
Mary is our new Alcohol and Drug Counselor, replacing Alanna Hulse. Mary's experience started in education and then turned to Case Management with TASC, Region V Systems, and The Bridge. While at The Bridge Mary received her license to become a LADC, Licensed Alcohol and Drug Counselor. She has been married for 32 years and has 3 adult children. Her home now is filled with 2 dogs and 2 cats. Mary wanted to come to Matt Talbot because of our long-standing reputation for helping the homeless. When she heard about new programs that were opening in the area, it seemed that Matt Talbot was always involved. She has worked alongside many employees of Matt Talbot when doing case management and counseling. Mary is excited to have joined the team and is looking forward to the collaboration to move us all forward and to provide the most help for those who need it. 
Amber Dean is our new Director of Housing and Outreach Programs. Amber joins our team after working at the People City Mission for 4.5 years and the last 5 years at Friendship home. Amber has her Associates in Human Services. She has two boys, ages 14 & 17. Her oldest will be off to UNO in the fall to become a mechanical engineer and her youngest will be off to high school. In her free time Amber loves to read, shop and spend time with family and friends. She loves to travel to a new destination each year. Amber grew up in Lincoln Clinton neighborhood and is very passionate abut her community. Amber says, "There's no reward greater than giving back to the community that helped raise me and I get to do that with Matt Talbot". 
Welcome to both of these outstanding ladies!