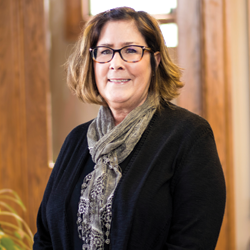 After 14 years of serving the working poor and homeless at Matt Talbot Kitchen & Outreach, Lynda Flynn is retiring. Lynda started her career at Matt Talbot as our Executive Director's Assistant, and after 4 or 5 years was promoted to Director of Operations. Lynda was introduced to Matt Talbot by volunteering with a Hunger Relief team and says it was the best day of her month when she came and volunteered! Lynda also assisted in the move to our current ocation over 10 years ago. 
Lynda plans on dividing her spare time between her two daughters and their children. They both live in western Nebraska and she will be able to spend more time with them. She'll be busy right out of the gate with traveling and helping plan her daughter's wedding. Lynda also plans on learning how to play piano. Who knows, maybe she'll come back and play the piano one day for our guests! We wish Lynda nothing but the best and will miss her.
Thank you for helping us give Bold Hope for 14 years!