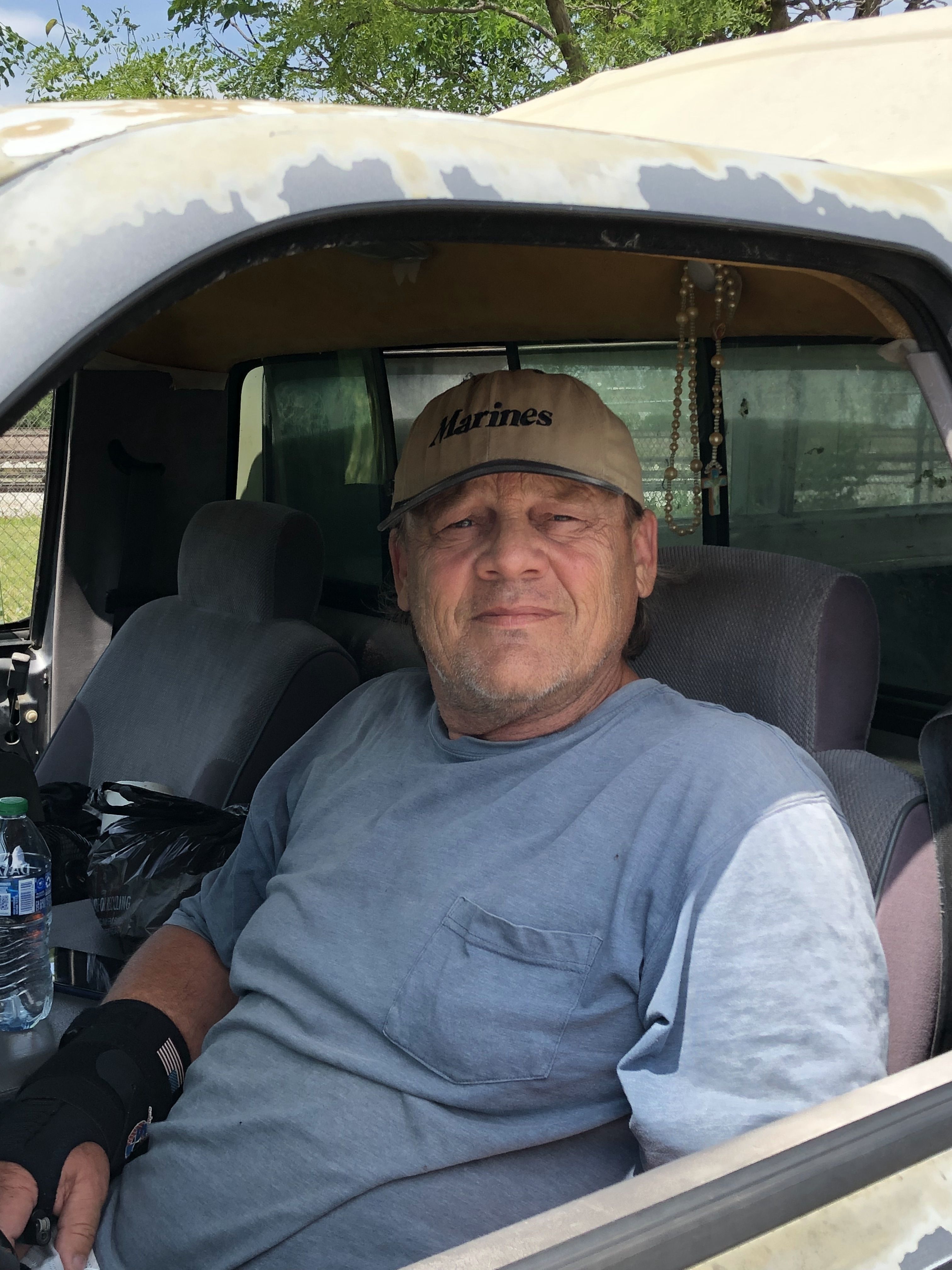 Kevin's been around.
The 61-year-old rolled through most of the last four decades on 18 wheels, at home on the highway moving meat, produce, and "about everything you could haul" in "about every trailer there is to pull" from California to Texas to New York and everywhere between – though the longest trip of his life was as a passenger on an international ticket punched by Uncle Sam.
Following his graduation from Lincoln (Neb.) Southeast High School in 1978, Kevin enlisted in the Marine Corps and completed basic training in San Diego before shipping off to Okinawa as part of the 1/9 "Walking Dead."  After a year on the Japanese island, he returned to Camp Pendleton to finish his service on the way to an honorable discharge in 1982.
"I'm from that generation," he explains in a deep, gravelly drawl.  Military service was "just something you did," and he credits the experience with making him stronger and wiser, though he admits being unprepared for it.
"You didn't know the a**-whooping you were gonna get."
The former leatherneck worked as a mechanic in Escondido for a few months that year before coming back to Lincoln to see his father for what turned out to be the final year of his life.
In hindsight, he sees the timely return as no coincidence.
"The good Lord brought me back to spend that last time with him," he declares.
Kevin then began his years on the road, which led "all over this country" and frequently to South Padre Island, TX, which, in the early '90s, became his favorite destination.
"I went down to south Texas and met a gal... [and] had a baby with her," he recalls fondly, as the warm memory tugs the corners of his mouth into a thoughtful smile.  "Once I met her and after she had the baby, that was [the only place] I wanted to go."
Kevin climbed down from the cab for the last time about six years ago, ending his long-haul days for good.
"I just couldn't do it anymore, not just physically but mentally," he concedes, citing an increase in traffic and his witness of both worsening driving habits and more frequent wrecks, as well as an old wrist injury that often forced him to rely on his non-dominant hand.
"Some bulls go to pasture earlier than others," he adds.
And for Kevin, that pasture is Lincoln.
"My boy grew up, […] I wanted to come home, and I missed my trees," he says of his decision to return to Nebraska's "Star City" in 2017, making reference to the large shade trees common in the area.
At the time of this interview, the retired trucker was living out of his pickup following the recent loss of his prior living arrangement, but that didn't stop him from recognizing good fortune in his life.
Days after his vehicle became his home, he passed by a salvage yard where "this humble, awesome old man had a camp topper for pickups sitting on the ground."
Kevin relates, "I stopped and asked him about it, [and] he said 'well, if you get some help and get it on your pickup, you can have it.'"
The following day, that freshly outfitted truck needed fuel, and "this young guy" "says 'yeah, I'll help.'"
Kevin recounts in amazement, "He filled my gas tank, 80 dollars."
And while he's grateful for the generosity of these two strangers, Kevin sees another force at work.
"It's all God, bro," he says.  "He blows my mind everyday.  And then He gives us Matt Talbot's."
Kevin was a regular guest of the kitchen and outreach center early this summer – and a particular fan of the meals.
"This just doesn't happen, especially this quality," he remarks.  "I've been to some soup kitchens [and] there ain't nothing like this."
The thankful patron continues his praise.  "You can't buy this [food] even in a restaurant.  This place is blessed."
Kevin has since found housing through the Veterans Administration, and his plans for the future are as simple as they are unsurprising.
"It's all God," he affirms. "He leads me."
Article by Andrew Burbach, MTKO Volunteer