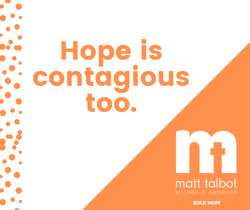 The needs of people experiencing homelessness and near homelessness do not stop during the COVID-19 pandemic. In fact, the need will increase as the economic situation worsens and more individuals and families face layoffs and unemployment.
Matt Talbot Kitchen & Outreach remains open and continues to provide services using modified operations and means of communication to mitigate the risk of virus transmission. Boxed "to-go" meals are provided twice a day, every day with expanded hours Monday-Friday. The facility is open to guests using laundry, shower, counseling and substance use evaluation services by appointment only. Housing & case management, mail distribution and street outreach are ongoing.
Matt Talbot is uniquely positioned to assist those experiencing unsheltered homelessness (sleeping outside or in cars) who are particularly vulnerable to infection because of underlying health conditions and a lack of access to basic hygiene or bathroom facilities. Following national guidelines, Matt Talbot is providing education, hygiene products, portable toilets, and a hand washing station on the grounds. 
Our guests are thankful for our continued presence during this crisis. From the family who came in five minutes before closing time so appreciative of the hot chicken dinner, to the man who brought his bed roll in on a Monday morning politely asking if it could be laundered, to the woman who met with one of our alcohol & drug counselors to complete a free substance use evaluation so she could enter residential treatment. They are grateful and their gratitude rubs off on all of us.
Hope is contagious too!