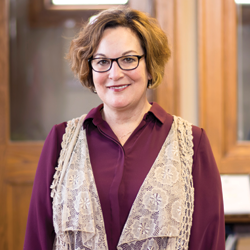 This article appeared in the Lincoln Journal Star on 12-4-19.
by Susanne Blue, CMSW- Executive Director, Matt Talbot Kitchen & Outreach
Advocates that serve persons experiencing homelessness have learned a lot about what types of programs are most effective in ending homelessness. Agencies in Lincoln, and throughout the country, are seeing successful outcomes with programs that use a Housing First philosophy to provide people experiencing chronic homelessness with housing and supportive services to help them maintain their housing. Research has shown that these programs are more effective than emergency shelters or transitional housing at housing the "hardest to serve" individuals who often struggle with complex and overlapping health, mental health and substance use disorders. We are seeing the effectiveness of these programs in Lincoln and that is something to celebrate!
But having effective programs in place is not enough to solve the problem of homelessness.
If we are serious about ending homelessness in Lincoln, we need more affordable housing options for low-income individuals and families.
The City of Lincoln is working with RDG Planning & Design to create a plan that will maintain and increase the supply of quality affordable housing in Lincoln as the city continues to grow. This past year I worked on a Task Force of the Lincoln Homeless Coalition to create a report with findings and recommendations on affordable housing specifically for residents at or below 30% of area median income (AMI). Our report was recently submitted to RDG. It is imperative that we all be heard but it is especially important for those who historically have had little voice.
One of the issues our Task Force discussed was the fact that the term "affordable" does not mean the same thing to everyone.  New housing units in our community deemed "affordable housing" are simply not for those we serve at Matt Talbot Kitchen & Outreach. As advocates serving people experiencing or at risk for homelessness, we see a need for essential housing that provides shelter and safety at a truly affordable cost.
In 2017 Lincoln's Department of Urban Development reported that units rented to households at or below 30% AMI decreased by 632 housing units (-5%) from 2010 – 2017. Furthermore, 94% of those households were paying more than 30% of their income. This is not sustainable for the working poor and those recovering from homelessness.
Our community cannot afford the tide to turn on the positive strides being made at reducing homelessness.  The human, emotional and even financial costs of homelessness are simply too high. 
Through our Task Force efforts we found that the average annual cost of one person in Lincoln experiencing homelessness is approximately $35,416 due to use of emergency services.  Compare that to the $16,000 per person annual cost to provide housing with supportive services. The numbers speak volumes and highlight the importance of investing in viable housing options to prevent further homelessness.  
There is no doubt that every day of homelessness decreases the ability of those individuals experiencing it to obtain and keep employment.  Every day of homelessness increases the likelihood of physical or sexual assault.  Homelessness increases the risk of suffering from a mental health disorder, drug or alcohol addiction, long term and chronic disease or illness and the probability of becoming homeless again.  The longer a person is in a homeless situation the more likely they are to never exit homelessness.  As a prosperous and compassionate community, we can't allow that to happen.
Our Task Force brought forth several recommendations to increase essential housing in Lincoln including ongoing tenant education opportunities, increased landlord engagement and recruitment and greater tenant advocacy. Policy changes such as the Land Bank Legislation (LB424) that addresses dilapidated houses and the new rental inspection ordinance that passed last May can improve housing options. Inclusionary zoning to encourage developers to build or rehab truly affordable units would go a long way in increasing the housing inventory available to low income households.
This is a complex problem and there are no simple solutions or quick fixes. But the time to act is now.
In this season of giving let's not forget about those who have the least, the working poor and those without homes. Housing is a basic human right.  Let's work together to ensure everyone in our community has access to it. To learn more visit lincolnhomelesscoalition.org.
Lincoln Homeless Coalition Affordable Housing Task Force Chairs:
Susanne Blue, Matt Talbot Kitchen & Outreach
Bryan Seck, Lincoln Partnership for Economic Development
John Turner, Nebraska Investment Finance Authority