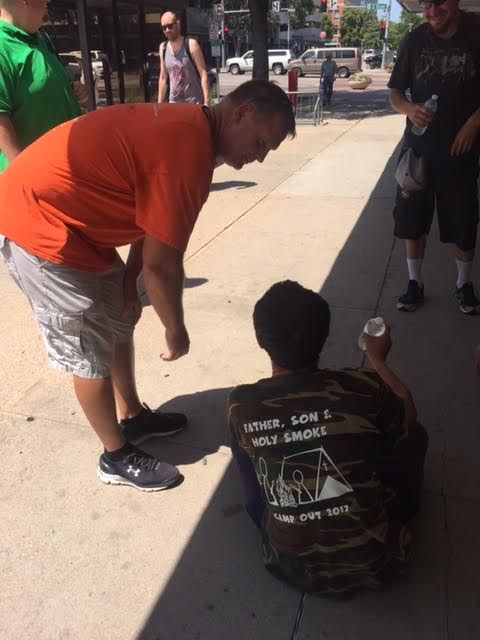 We often think about the homeless during periods of extreme cold. But what about during heat waves? Prolonged exposure to extreme heat and humidity put the homeless at high risk of heat exhaustion or heat stroke.   
Matt Talbot's Street Outreach Team has been out during these hot days handing out cold water to the homeless and offering help with other needs. This simple outreach can be life-saving, but it also builds trust and increases the likelihood that these vulnerable individuals will eventually be open to more intensive assistance with housing, substance use counseling or case management. 
Clarence Grendahl, Alcohol & Drug Coordinator and Chris Hruza, our new Alcohol & Drug Counselor, went on street outreach with Outreach Specialists Glenn Schawang and Stanford Bradley during some especially hot days in July.  
"We were in downtown Lincoln and many of the people knew Glenn and Stanford - either from coming to the kitchen for meals or from other street outreach visits. I was struck with how grateful people were for the water. But more than that, they really appreciated us checking in on them."