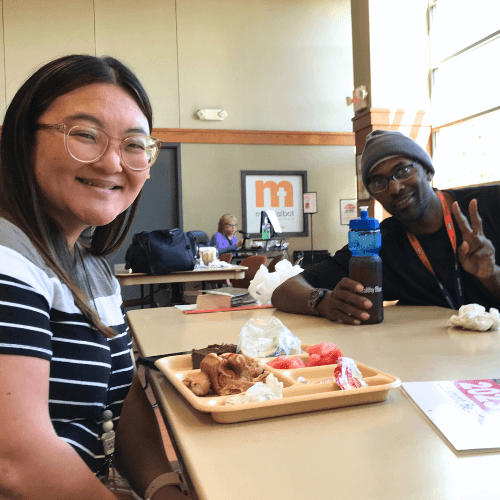 I'm closing in on my first few months here at Matt Talbot. I began towards the end of August which brought extreme heat. It was a very warm welcome. There was a full week where temperatures were above 100 degrees. Heat brings exhaustion, stress, irritability, and just plain discomfort. MTKO was open that entire week from 8:30-6:30. We offered a place to cool down, stay hydrated, and of course, eat a nutritious meal amongst community. Throughout the week, I was inspired and impressed with how our staff showed up every day and offered dignity, compassion, inclusion, and most of all hope to every single guest who entered our dining room. This place is special and I'm proud to be a part of this team.
My first few months have been full of observations and conversations with guests and staff - getting to know names, unspoken seating arrangements in the dining room, and introducing myself. I've learned what meals are favorites - I already have a few of my own - and what it means when we show up for each other. Hunger and homelessness are here and we see it every day at Matt Talbot - up close. In the book, Just Mercy by Bryan Stevenson, there is a quote that says something about "you can't understand most of the important things from a distance. You have to get close." I'm still doing lots of learning. What I've learned the most is, if we want to offer dignity, if we want to really listen, and if we want to fight for change, we have to get close. We cannot do this work from a distance.
So, my call to action to you this month is to get close. Come in for a meal. Sit with our staff and guests. Offer hope and community to our guests to let them know the community cares and we are dedicated to finding solutions with them. In August, we served 1,000 more meals than the previous month. The need is increasing.
As many of us are looking forward to the cool-down that fall offers, it also means cold nights are right around the corner. But know, we are here. Everyday. To offer a safe and warm place of refuge, a place to have great conversations or maybe play some cards, and most of all offer hope. Please come in. The coffee is on and we've got a seat for you. We need you at our table.