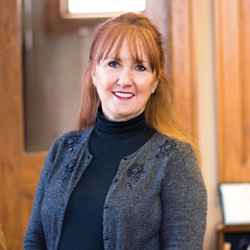 Dear Matt Talbot Kitchen & Outreach Volunteers,
I hope this letter finds you and your loved ones healthy as the world battles the COVID-19 pandemic. Matt Talbot, like every organization and business in the United States is keeping abreast of CDC guidelines and crafting future plans to ensure that our guests, volunteers and staff all stay safe. As we are all currently living in challenging times, it is a period to evaluate and evolve both personally and as an organization.  
It is not business as usual at MTKO, during this time we are working on positive changes to our volunteer program. You may recall receiving an email asking you to provide your personal information, name, phone number, birthdate, etc. Why? We are currently in the process of implementing a new volunteer database called Volgistics.  This system will take the place of manually writing out timesheets and kitchen volunteer logs. I understand that some people are concerned with providing this information. I've been asked "how does the system benefit them as a volunteer?"  "Why do you need my address or birthdate?" Matt Talbot is trying to get a better understanding of who our volunteers are in general. In some cases we must provide the numbers of volunteer hour for grants, board members, etc. In the past we have had issues with getting communications out to all of our volunteers, i.e. an event or timely changes that are happening to our organization. We feel that information gathered and entered through Volgistics is as safe and guarded as any you have shared with us in the past. We would never employ any system that didn't make security of your data a top priority.  The reason why we are asking for your birth date is so we can acknowledge it and wish you a happy day. In addition to that, knowing the demographics of our volunteer base is crucial to our organization as we embark on a strategic plan.  If you are not comfortable providing this information or any of the personal information, please let me know and we can find a workaround. We will not give out any of your personal information to anyone. The only thing we will be using it for is to provide you with Matt Talbot information or to report in aggregate.   
I must stop here and thank you. Volunteers have been part of Matt Talbot Kitchen & Outreach since the beginning. Many of you have contacted us during this uncharted time and asked what we needed? What can I do to help? You have balanced your concern for MTKO while harboring the same challenges, concerns and feelings in your personal and professional life.  
None of us know with perfect clarity what the future looks like, but we have the power to shape and prepare for it as much as possible. We hope to have our volunteers back in our facility as soon as possible and to ensure them that our facility is safe for their return.  
Please feel free to contact me directly with any questions or concerns at 402-817-0823 or Victoria.oneil@mtko.org.  
Keeping Everyone in my Thoughts,
Victoria O'Neil, Volunteer Coordinator