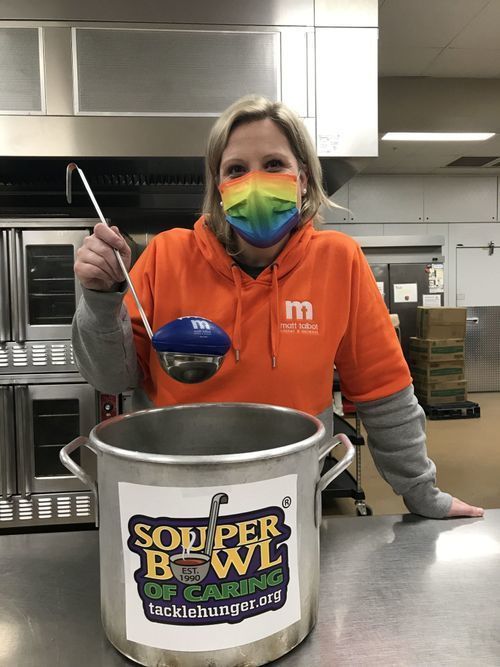 The vision of the Souper Bowl of Caring is to transform the Big Game into a nationwide movement inspiring people to give locally and make a collective impact on hunger. Churches, schools, civic clubs, families, neighbors, businesses, scouting groups and clubs are invited to collect donations for local hunger relief organizations like Matt Talbot.
Because of the generosity of volunteers and donors, Matt Talbot has safely stayed open during the pandemic. Our hunger relief efforts - and your support - are more important than ever. Although this year's Big Game is over, donations of cash, canned goods, blankets, or backpacks are still welcome. So far, Matt Talbot has received over $3,700, over 300 pounds of food, several blankets, backpacks, and other items. Thank you to all those who have collected and are continuing to collect donations!
If you're interested in joining the team to "tackle hunger", here are a few easy steps:
COLLECT. Select a drop-off spot and/or organize a collection.
REPORT. Visit www.tacklehunger.com to report your collection, add to the national total, and see the united power of caring.
DONATE. 100% of your collection is given to the local hunger-relief charity of your choice, such as Matt Talbot.
If you have questions, please contact Jenn Boettcher at 401-817-0619 or jenn.boettcher@mtko.org.  
Thanks for helping your neighbors in need!
---