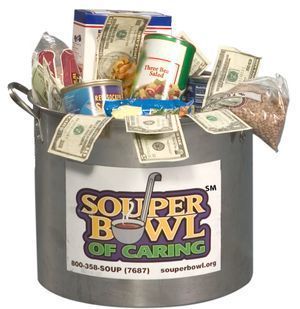 The vision of the Souper Bowl of Caring is to transform the Big Game into a nationwide movement inspiring people to give locally and make a collective impact on hunger. Churches, schools, civic clubs, families, neighbors, businesses, scouting groups and clubs are invited to collect donations for local hunger relief organizations like Matt Talbot.
Because of the generosity of volunteers and donors, Matt Talbot has safely stayed open during the pandemic and provided more than 75,000 meals to individuals and families experiencing homelessness or near homelessness last year. Unfortunately we are seeing an increase in food insecurity as a result of the pandemic which makes our hunger relief efforts - and your support - more important than ever.
Participation in the Souper Bowl of Caring is easy – though with distancing due to the pandemic the implementation may require a little creativity! Donations of cash, hand & foot warmers, and men's large winter gloves are all welcome. It can be as simple as making an announcement one week and collecting from your group the next week. One item or $1 per person makes a huge difference. Here are 3 easy steps:
COLLECT. Select a drop-off spot and organize a collection on or before Super Bowl Sunday (February 7, 2021).
REPORT. Visit Souper Bowl of Caring to register and report your collection, add to the national total, and see the united power of caring.
DONATE. 100% of your collection is given to the local hunger-relief charity of your choice, such as Matt Talbot.
Let us know you are on the team by completing the short form below. If you have questions, please contact Vicky Drozd at 401-817-0619 or vicky.drozd@mtko.org.  
Thanks for helping us "tackle hunger" in Lincoln!
---
Yes! We are planning to be part of the Souper Bowl of Caring Team!