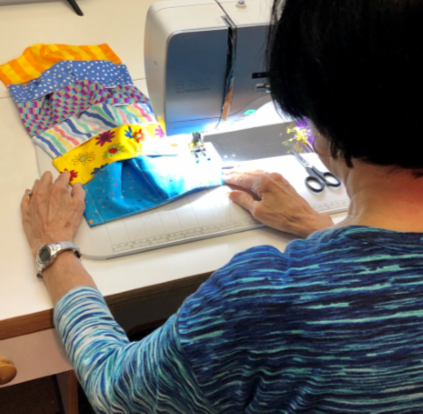 Sheila Green loves to sew, so when there was a call for help to make masks to protect Lincoln during the Covid-19 pandemic, she answered. 
Lincoln Covid Sewists is a group that she started March, 2020 due to the need for facemasks, surgical scrub caps, hospital gowns and surgical shoe covers. Sheila enlisted members of the two local quilt guilds she is a part of (Lincoln Quilters Guild and Lincoln Modern Quilt Guild) and friends & relatives that are not guild members. All total, about 120 individuals have sewn or donated materials (fabric and elastic). Just under half the volunteers are guild members and over half are "friends."  Some sewists she's not yet met, as they learned about it on Facebook or on TV coverage. 
This is a no contact project. Sewing volunteers message her with how many masks they want to make and she has supplies ready in a tote on her porch for them.  Completed items are returned the same way. They do not receive financial support from either quilt guild.  There were 110 volunteers who made masks over the past year with about twenty of those volunteers being "regulars."  So far 30,104 cloth face masks, 585 surgical scrub caps, 269 hospital gowns and 12 pair surgical shoe covers have been donated to 71 organizations (mainly non-profits). 
Sheila post weekly reports on the Quilt Guild's Facebook pages, her own, and a national page.  The weekly documentation and photos are being done at the request of the Nebraska History Museum and the International Quilt Museum. Sheila is currently making giant "Mask Quilts," each with about 100 masks sewn onto them, one for each museum's permanent collections.  She is looking forward to the day she can meet all the sewists and present the quilts to the museums with all her friends, new and old!  She honestly can't tell you the number of hours they have dedicated to this project. It takes 20 minutes to cut and sew each mask, 40 minutes to make a scrub cap or shoe covers and 2.5 hours to make a hospital gown.  That's a total of  11,000 hours!  Plus, she spends about 2-4 hours a day filling orders for volunteers and organizations, plus delivery and record keeping. It's been a very busy year for Sheila and her home is full of supplies. The project takes all of her time.
Matt Talbot thanks Sheila and her band of sewers. They are providing Bold Hope to all of Lincoln!