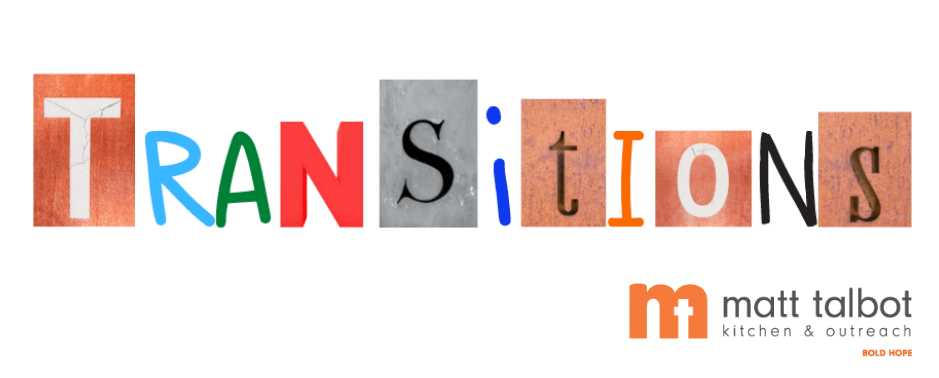 Transitions certainly describes what is happening at Matt Talbot Kitchen & Outreach right now. This past year we had several long-tenured staff either retire or move on to other opportunities. Change is inevitable they say, and it can be hard, especially when we have had very few openings over the years, but it is also ripe with possibilities.  
We now have several new team members and have been rearranging some of our organizational structure. New people bring new energy and cause you to look at old ways. They bring about opportunities for critical analysis which is always a good thing. The timing of these transitions is serendipitous in that we also are in a strategic planning season. Our 3 strategic priorities encompass strengthening our infrastructure, assessing our prevention efforts while enhancing partnerships to meet critical needs, and creating a strategic communication plan for internal and external communities.
It is an exciting season for Matt Talbot. Our organization will be celebrating a significant milestone, its 30th anniversary this year! All the changes we are experiencing now are part of the life cycle of a more mature organization. Yet there are some tensions moving from the past to the present, something like growing pains I'd guess. Thankfully we have our faith, a compassionate focus, and a tremendous amount of community support. These strengths will see us through to more solid ground. 
As the longtime leader and only executive director Matt Talbot has had, I have mixed emotions about all this change. I miss the old days sometimes. It was a lot simpler when we had fewer services and less staff. The responsibilities are much greater now. Of course, the pandemic has complicated service delivery but has also been hard on all of us personally. As an essential service provider we have been in the front lines the whole time.  It has taken a toll. Like everyone else, we are tired. But the blessing of having new team members is that they are infusing energy into Matt Talbot. They are reminding us of our culture of community, joyfulness and hope. They more easily adapt to the transitions we are experiencing. And the enthusiasm they have is contagious for our entire team!
Winter is also a season of transitions. After the joyful holiday season we enter the harsh days of winter.  It is obviously very hard on those struggling with homelessness. Our team works diligently to acquire items to help those living outside. Some of our greatest needs currently are hand and foot warmers, men's large winter gloves, and monetary donations. Your gifts, as always are much appreciated! And before we know it, the days will get longer and warmer, and another transition will be upon us. I guess that makes life more interesting.
Please keep an eye for updates on our 30th anniversary celebration, staff changes and other bold hope news!
- Susanne Blue, MSW
Susanne is a social worker and executive director of Matt Talbot Kitchen & Outreach in Lincoln, NE.