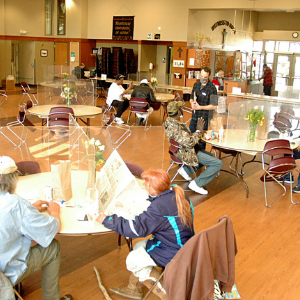 The other day I had an email message from my co-worker, Heather. In the subject line it said, "The dining room is full!"  Now that may not seem like such a big deal, and admittedly our dining capacity is still limited since the pandemic to keep safety in mind, but the sounds of laughter and conversation that used to be commonplace were a much needed boost after the past year! Those normal sounds gave us hope, as noted by several coworkers responding to that email with positive remarks and high five emoji's! 
One of the many things I have learned over this past year is just how important that social connection is, especially for some of our guests who are alone. What a difference it makes to the spirits of those in the dining room and for the staff who witness it! I will never take for granted the sounds of a hustling and bustling kitchen and outreach center, which is the Matt Talbot Kitchen & Outreach that I cherish! 
---
You can support our work to defeat hunger and homeless and restore hope with a donation for Give to Lincoln Day. Your gift will go even farther on this day because Matt Talbot will receive a propotional share of the $500,000 challenge match fund, provided by the Lincoln Community Foundation and their sponors. Give anytime before midnight on Tuesday May 25th. Thank you for investing in Bold Hope!