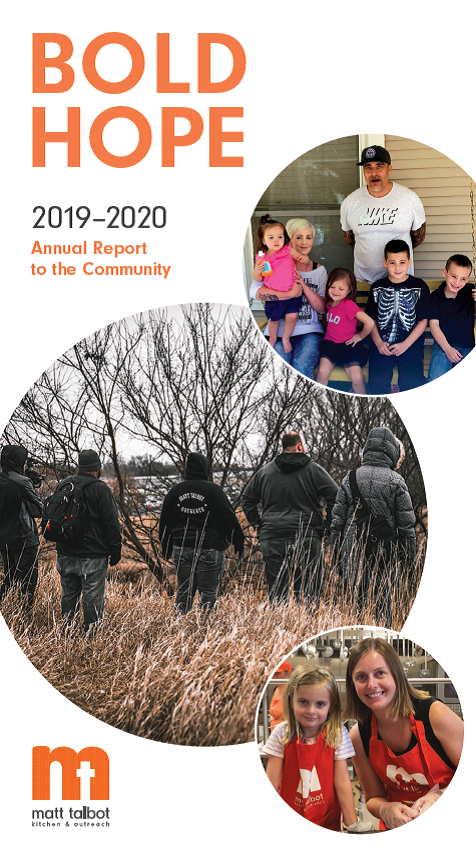 [This letter was in the recently publishsed 2019-2020 Annual Report to the Community.)
This year and every year, Matt Talbot is a place for ALL.
As I sit down to write a message for the annual report I find myself in a quandary. Typically this annual message is full of positivity and thanks. Today those sentiments are included but the state of things is making it a bit more challenging. Race relations are poor in our country and community. We're in the middle of a pandemic and there is great fear and uncertainty surrounding that. Even the most optimistic of souls can feel a bit discouraged. But this is something, like racism, we must fight against.
Matt Talbot has always been a place where hope is bold and compassion is at the forefront. ALL people are welcome no matter their circumstance. We are an inclusive community where diversity is embraced and people are treated with respect and dignity. ALL PEOPLE. The fact that as a society we are still struggling with skin color and orientation is baffling. We've advanced in so many areas but today we are very aware that the progress made has not been enough and has not been sustained.
What can we do to remedy this? We can listen, we can learn, and we can keep our minds and hearts open, especially to people who are different than us. These types of practices are what has helped Matt Talbot thrive all these years. Our differences make us stronger, more thoughtful and just plain better.
In the past year we have continued to grow to meet the needs of Lincoln's working poor and homeless.  We are expanding our housing and substance use programs. We continue to innovate to address affordable housing, hunger relief and outreach assistance. We've had to pivot to provide the same comprehensive services during the pandemic. It has required a tremendous amount of research, thought, patience, and sacrifice. I commend our staff and volunteers for making it happen. We accomplished all this through our diverse ideas and perspectives. We came together around a common cause.  We listened and learned from each other. 
When I reflect back on this year I want to remember that the hungry were fed, the homeless provided shelter, those who wanted recovery were provided the tools and those who wanted to serve others were provided an opportunity.  EVERYONE was a part of the good that is Matt Talbot Kitchen & Outreach. Because of our differences we have excelled.  We've been blessed. Thanks to our wonderful board of directors, staff, volunteers, and donors who have contributed to that goodness. YOU make Matt Talbot the place where EVERYONE can feel like they belong.  
Please enjoy the content of this report. It highlights our efforts to defeat hunger and homelessness and restore hope!
Sincerely,
Susanne Blue, CMSW
Executive Director