9/1/20: Summer Squash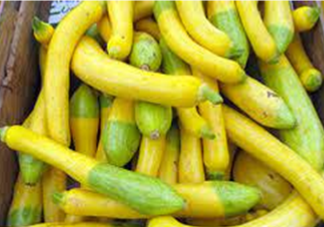 Mid-to late summer is when summer squash are most prolific.  We have had a lot of them here at Matt Talbot but sometimes people are not sure what kind they are getting. Summer squashes are all similar in that their skins are soft and the seeds soft and edible.  They are actually harvested before they are mature for them to be at their prime, before they get tough with large seeds. 
Most everyone is familiar with the Romanesco, and round (or eight ball) as well. The yellow are a bit sweeter than the common green zucchini.  But did you know that zucchini come in varieties like yellow (or golden) Costata?  The Costata Romanesco has pale green ridges and darker green valleys. The photo shows what a cross-section of them looks like. The eight balls are little spheres. It is best to harvest them when they are softball sized. Because of their unique shape, it is fun to stuff them and serve them that way. 
There are also yellow squash. They come in straight and crooked-neck varieties. They have fatter bottoms and taper towards their neck. Their flavor is very similar to zucchini and they can be interchanged with zucchini in recipes.
A few less-known varieties include the cousa, the zephyr and the tromboncino. Cousas could be mistaken for spaghetti squash in appearance but their skins and seeds are edible. They are shorter and squattier and their flavor is slightly sweeter than zucchini.  Zephyrs are quite attractive in appearance, with yellow tops and pale green bottoms. They have straight necks so are perfect for making slices or strips in recipes. Although they have slightly tougher skins than zucchini, their flesh is a pleasant, nutty flavor.  Tromboncinos are quite impressive in appearance and can get quite large, with their twisty, curling bodies. They are an Italian heirloom squash, with fewer seeds and a firmer texture than some of the other summer squashes. It is probably best to harvest them when they are about a foot long. All these squashes are quite versatile and can be used in either sweet or savory applications. They can also be sliced or shredded and frozen for later use.
---
Healthy Zucchini & Squash Casserole Recipe
Ingredients:
2 lbs. Zucchini & Yellow Squash (alternate colors for an unique and pretty appearance)
2 1/2 Tbsp. Olive Oil
1/4 tsp. Garlic Powder
1 1/4 tsp divided Salt &  1/2 tsp. Pepper
1/3 cup Parmesan Cheese
1/3 Panko breadcrumbs
2 Tbsp. Parsley
Step-by-Step Instructions:
1. Preheat oven to 350
2. Prepare yellow squash and zucchini by cutting into 1/4-inch slices.
3. Sprinkle 1/2 teaspoon salt over all of the slices and let sit for 10 minutes. Wipe away any excess moisture that form with a paper towel.
4. Layer the zucchini and yellow squash in a 9-inch square baking dish and sprinkle with remaining slat and paper.
5. Whisk together breadcrumbs, parmesan cheese, and garlic powder. Sprinkle over zucchini and squash.
6. Cover baking dish with aluminum foil and bake in preheated oven for 30 minutes. Broil for 3-5 minutes  or until the topping becomes crispy.