9/1/19: What's New at MTKO Garden and Cooking Classes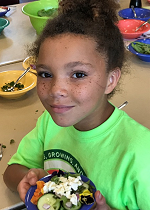 We have had a fair amount of produce from the HOPE Garden after a slow start this spring and are currently harvesting tomatoes, jalapenos and other peppers, cucumbers, beets, okra, and green beans.  We had a nice crop of onions and garlic and will store those to use for cooking later this year and into the spring. 
We continue with adult cooking classes and prepare meals that contain seasonal produce.  When we have a class we often go to the garden to pick what we have there, including fruits, vegetables and herbs, which we need for the meal we are preparing. We make a meal according to Choose My Plate guidelines and then enjoy eating it together as a group. 
We had Kids Garden and CAFÉ (Children and Food Education) classes this summer with children from the Malone Center.  We would go to the garden prior to making a healthy snack and see whatever interesting things we could find there, plus gather ingredients for our snack if we could. One class made a salad that included edible flowers (pansies). That was quite a hit.  Who knew that one could eat flowers?  We found things like shed snake skins, strawberries, and swallowtail butterfly caterpillars. 
With the new school year starting, we are going to continue monthly Kids CAFE classes at Cathedral of the Risen Christ School. We have had a lot of interest so far and are looking forward to carrying on with the classes at this new location.