8/1/19: Berry Grunt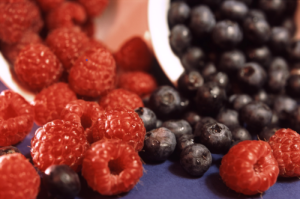 Finding lovely berries to use this time of year?  We have some lovely (and delicious) blackberries ripening in the HOPE Garden.  This is an easy dessert to use these scrumptious berries that doesn't require heating the oven to prepare it.   A classic grunt is a dumpling-topped fruit dessert that's cooked on the stove. We have made it several times in our cooking class with rave reviews.  (It's also very good with ice cream or frozen yogurt topping it.)
Berry Grunt
3 cups berries
1/3 cup berry syrup, maple syrup, honey or sugar
1 Tbsp. each water and lemon juice
Combine in a frypan (cast iron is good).  Stir gently, cover and bring to a simmer.
1 cup baking mix, like Bisquick or you can make your own
½ cup milk
3 Tbsp. sugar
Mix together and drop by spoonfuls into the simmering berries.  Cover tightly and simmer 15 minutes or until the dumplings are done.