7/1/20: What's Up in Hope Garden?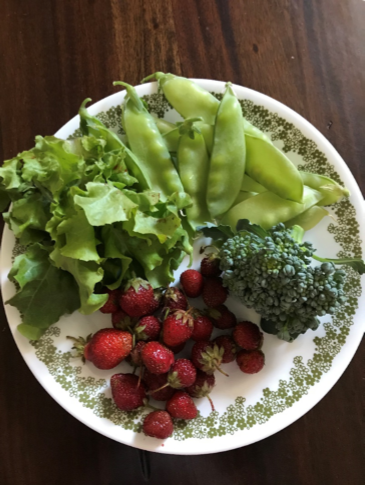 We have begun to harvest produce from the Hope Garden here at Matt Talbot. So far we have had rhubarb, strawberries, sugar snap peas, radishes, lettuce, Swiss chard, kale, garlic, one small head of broccoli and one tiny, tiny eggplant (Patio Baby!).  A client who has come to cooking classes here is continuing to experiment with cooking her own foods and is planning to use the chard, kale and garlic in a frittata. I am so proud of her continuing to explore how to use fresh produce and making her own food creations. She is amazed at how good the food prepared with fresh veggies tastes and how much better she feels (and looks—she says her complexion has improved) when she eats it, as opposed to convenience foods and lots of salty, packaged snacks.
If you didn't get your own garden planted it is not too late to plant some green beans, cucumbers, summer and winter squash, tomatoes, peppers, and eggplant. You could even grow the vegetables in a large pot, if space is not available for a garden.  If you don't want to (or can't) garden, check out the Farmers Markets, they are operating safely, even with the Covid 19 virus. The Markets have a wonderful selection of all the seasonal fruits and vegetables in our area.  Enjoy the bounty of summer, along with its amazing taste and the health benefits that accompany it.
Pictured is some of the first produce from the Hope Garden at Matt Talbot for this summer 2020.