7/1/19: HOPE … and lots of other things in our Garden!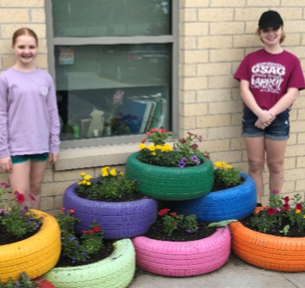 Things are really buzzing (both literally and figuratively) in the HOPE Garden here at Matt Talbot.  We have been harvesting lots of things and then using them in our cooking classes.  We have classes for both adults and children going on right now.  All participants who want to are able to tour the garden and sometimes harvest what is ready. 
Today, for example, we studied insects in our Kids CAFÉ class and then went out to see whether we could find any of the beneficial insects we had discussed.  The children learned that bees are beneficial for pollinating plants.  We saw several large bumble bees working away while we were out there.  We also saw a snake skin that its owner had discarded and evidence that some garter snakes still reside there.  While they were in the garden, the children found strawberries that were ready to pick and were anxious to help do the harvesting of them.
In our adult class we have made lettuce salad as well as strawberry rhubarb sauce to put on parfaits, both with ingredients from HOPE garden.
We again had a lovely flower donation from some Girl Scouts, who beautified the tires they painted and donated to us a couple of years ago.  You can see how the flowers have flourished in the cool weather with plentiful moisture this year.
Come take a tour through our garden and see what you might find there.