6/1/19: Kids CAFE at Sacred Heart School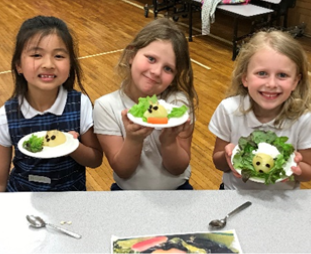 For the past two school years, we have held children's "cooking" classes at Sacred Heart School as an after-school program.  The Kids CAFÉ (Children and Food Education) classes have been very popular.  The participants prepared a healthy snack, which they then got to eat, and then we had an activity that involved physical movement.  We made a seasonal snack, as in April the cottontail bunny salad, which you see in the photos above. The "bunny" was a pear half sitting on a leaf of lettuce.  Faces were made from raisins and ears from almond slivers. The tail was a small mound of cottage cheese. The children determined that their snacks consisted of four food groups—vegetables, fruit, dairy and a small amount of protein from the nuts.  The classes thus emphasized both the importance of healthy eating and being physically active to help maintain one's health.  
Since Sacred Heart School will be merging with other schools next school year, we will no longer be holding the classes there, which makes us quite sad, as we have truly enjoyed our time there.  However, we will be continuing the classes at another location and look forward to that affiliation and these classes continuing on.  And we are so grateful to the Sacred Heart principal Ms. Laura Knaus and to Fr. Leo Kosch for the opportunity to expose the Sacred Heart children to healthy snacks and fun activities.