5/1/21: Kale - Cool Weather Veggie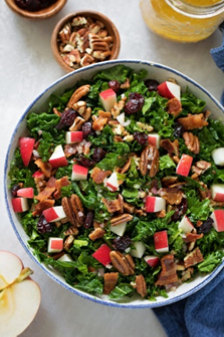 Wonder Green! 
That's what some food scientists and nutrition experts say about kale. You will find it on lists of super foods. It is a nutrient storehouse of vitamins A, K, B6, and C as well as calcium, potassium, copper and manganese. It contains phytonutrients that may decrease the risk of some types of cancers. One cup of kale only contains 33 calories and 7 grams of carbohydrate. Kale is quite versatile in cooking and can be steamed, stir-fried, roasted or eaten raw in salads.
Kale is easy to grow from seed and is quite tolerant of cold weather. I have had it survive some of our Nebraska winters. So if you are looking to grow a nutrition powerhouse, kale is your veggie! Plus it makes delicious salad.  Here is my best approximation of the recipe for the yummiest kale salad I have ever eaten.
---
Cranberry Apple Pecan Kale Salad (from Life Made Simple)
6 cups of kale, chopped
1 apple, cut into ¼-inch chunks
2/3 cup candied pecans—whole or coarsely chopped
6 strips of bacon, cooked and crumbled
¼ cup dried cranberries
You can also add Gorgonzola or feta cheese, sunflower seeds, grilled chicken or roasted pepitas to the salad.
Best Kale Salad Dressing (from The Endless Meal)                                          
1/2 cup extra virgin olive oil
1/3 cup apple cider vinegar
1/4 cup honey or maple syrup
2 tsp. balsamic vinegar
1 tsp. Dijon mustard
2 garlic cloves, grated on a microplane or very finely minced
Pinch of sea salt
Place all ingredients in a 2-cup mason jar.  Shake well until all ingredients are mixed together and the dressing is creamy.  Toss the salad in the dressing and serve immediately. The dressing keeps in the fridge for a week.  The oil may solidify a bit.  Just hold the jar under warm water and give it a shake before using if it has solidified.