5/1/19: Asparagus - A Lovely Spring Vegetable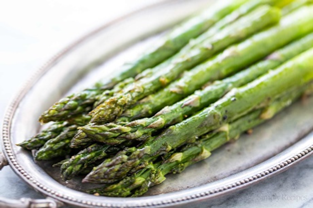 It's spring (finally!) and time for one of my favorite vegetables—asparagus.  These strange-looking spears are so delicious and there are so many ways to prepare them.  And now is the time to buy and serve asparagus, as spring is when it grows and can be harvested so you can eat it fresh.  Asparagus is low-fat and contains no cholesterol or sodium.  Although it is low in calories, it is a good source of vitamins A and C and folate.
I refer to the Fruits and Veggies—More Matters website often for good information about produce and how to use it. It has many ideas about how to prepare many fruits and vegetables, including asparagus.  Here are some of their top ten ways to prepare asparagus.  Besides the usual way of steaming the spears or cooking them in a little water and then seasoning them, you can serve them with a nice dressing like a mustard vinaigrette.  You can make a nice dipping sauce for them, with nonfat Greek yogurt, lemon juice, garlic and roasted red pepper, and serve them as an appetizer.  Or, for another appetizer idea, you can spread some soft cheese on a cracker and then top it with an asparagus head.  You can freeze the woodier stems and use them later for a hearty soup with potatoes, leeks and onions in a low-sodium chicken broth and sour cream base seasoned with a little lemon juice.  You can use asparagus in omelets and fettucine.  You can bake it or, and this is my personal favorite, grill it with a little olive oil for 5-8 minutes on the grill until they are tender and full of deliciousness. 
Hope you get to enjoy some asparagus this spring!