4/1/21: Farfalle Pasta with Salmon and Cream Cheese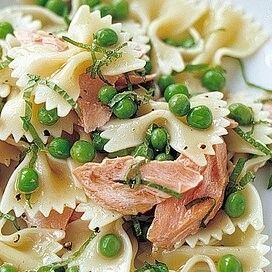 Welcome, spring! 
One of my clients has been working hard at eating more healthfully and following a meal plan. She developed a meal plan on her own the last time I saw her and had made this dish as part of it. It is so fresh and bright, especially with the asparagus and spinach she added to it. We have also been talking about eating well to support your immunity. This recipe has ingredients that are full of immune-boosting nutrients. The salmon is a good source of zinc, vitamins B6 and B12, and selenium. Pasta provides folate, vitamin B6, selenium and iron. Spinach contains vitamin A, folate, vitamin B6 and zinc and asparagus is also a good source of folate, should you decide to add these veggies to this dish. The antioxidant quercetin is abundant in onions and garlic. Not only is this dish delicious, but it is a powerhouse of great nutrition as well.
Farfalle Pasta with Salmon and Cream Cheese
12 ounces farfalle (bow-tie) pasta                        
¼ cup fresh dill, coarsely chopped, or 1 tsp. dried dill weed
Coarse salt and ground pepper                             
1 small red onion, quartered and thinly sliced   
2 Tbsp. capers, drained and rinsed
2 ounces bar cream cheese, cut into small pces
4 ounces smoked salmon, cut into bite-sized pieces
Instructions
Step 1: Cook pasta in a large pot of boiling salted water until al dente, according to package instructions. Add onion to pot, mix into pasta; immediately drain pasta mixture, retaining ½ cup of pasta water.   Return to pot.
Step 2: Add cream cheese, dill, capers, and salmon to pasta. Toss, adding reserved pasta water a little at a time to create a thin sauce that coats farfalle (you may not need all the water). Season lightly with salt and pepper. Serve.
This recipe is from marthastewart.com and is so versatile.  You can add various other ingredients to jazz up the flavor and add more nutrition to this dish. For instance, you could add a little lemon juice and/or garlic to the cream cheese mixture for additional flavor. I would lightly sauté the onions and garlic in a small amount of oil before adding them to the pasta, for a mellower flavor. In order to add more fiber, you could use whole grain pasta. To decrease fat and calories, you could use light cream cheese (or Neufchatel). You could add some steamed green peas, asparagus, and/or fresh or barely steamed spinach at the end for some more nutrition, flavor, and a food from the vegetable food group. And, finally, you could sprinkle a little shredded Parmesan or Fontina or whatever kind of cheese you like over the top of this yummy dish.