4/1/19: Fruit Salsa with Cinnamon Crisps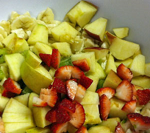 It's spring!  Or, at least it's officially spring, and hopefully the weather will cooperate with that official designation. Along with the spring weather we think of fresh produce. Below is a recipe that uses fresh fruits, including strawberries, which will soon be bearing here in Nebraska and available fresh in the stores or even in our own gardens. As the seasons change and other fruits come into season, they can be substituted for the fruit in this recipe. Kids love to make this salsa and the cinnamon crisps to go along with it.
 Ingredients
· 4 strawberries
· ½ banana
· 1 apple
· 1 kiwi
· 1/8 cup orange juice
· 2 Tablespoons sugar, divided
· 1 pinch nutmeg
· 1 teaspoon cinnamon
· 2 (8-inch) tortillas
· Cooking spray
Instructions
1. Wash hands with soap and water. Preheat oven to 350ºF. Gently rub produce under cold running water. Peel and core the kiwi. Dice the strawberry, apple, banana, and kiwi into ¼ inch pieces. Mix orange juice, 1 tablespoon sugar, nutmeg, and ¼ teaspoon cinnamon. Toss with fruit. Chill.
2. Cut each tortilla into 8 pieces. Arrange on a baking sheet.  Lightly coat with cooking spray.
3. Combine remaining cinnamon and 1 tablespoon sugar. Bake 6 to 8 minutes until slightly browned. Serve with fruit salsa. Makes 4 servings (1/4 cup salsa and ½ tortilla). Each serving contains 160 calories, 2.5 g fat, 220 mg sodium, 32 g carbohydrate and 2 g fiber.
Recipe adapted from Fast Foods, Nebraska Extension  4-H Curriculum, 4H5000.
See this link to UNL Extension for additional information.