3/1/21: Shrimp Po' Boy Sandwiches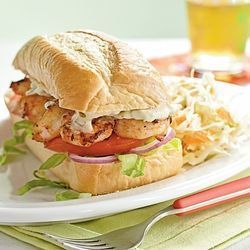 The Lenten season is upon us! While people think of Cajun cooking for Mardi Gras, it seems that some Cajun foods are perfectly appropriate for any meatless meals that we might want to have during this peiod of time. Po' boy sandwiches are a traditional Cajun dish. 
Po' boys made the traditional way contain about 50 g of fat per sandwich. Here is a version from My Recipes (Cooking Light July 2009) that only has 12 g per sandwich. Enjoy!
---
Pan-Seared Shrimp Po' Boys
1/3 cup reduced-fat mayonnaise                            1 ½ tsp. salt-free Cajun seasoning*
2 Tbsp. sweet pickle relish                                       2 tsp. olive oil
1 Tbsp. chopped shallots                                         4 (2 ½ oz.) hoagie rolls
1 tsp. capers, chopped                                             ½ cup shredded Romaine lettuce
¼ tsp. hot pepper sauce (such as Tabasco)            8 thin tomato slices
1 lb. peeled and deveined large shrimp                   4 thin red onion slices
Ingredients for Carrot and Cabbage Slaw
4 cups shredded green cabbage                             3 Tbsp. reduced-fat mayonnaise
1 cup shredded carrots                                            1 Tbsp. cider vinegar     
                                                                                 ¼ tsp. celery seeds
Directions:
Step 1: Combine first 5 ingredients in a small bowl. Heat a large nonstick skillet over medium-high heat. Combine shrimp and Cajun seasoning in a bowl; toss well. Add olive oil to pan, and swirl to coat. Add shrimp to pan; cook 2 minutes on each side or until done.
Step 2: Cut each roll in half horizontally. Top bottom half of each roll with 2 tablespoons lettuce, 2 tomato slices, 1 onion slice, and one quarter of shrimp. Spread top half of each roll with about 2 tablespoons mayonnaise mixture; place on top of sandwich.
Step 3: Combine cabbage and carrots in a large bowl.  Combine the mayonnaise, vinegar and celery seeds in a small bowl.  Add mayonnaise mixture to cabbage mixture.  Stir well.
Chef's Notes
Using salt-free Cajun seasoning reduces the sodium in this dish without sacrificing any of the flavor. *Or you can make your own salt-free Cajun mix with 2 Tbsp. garlic and 1 Tbsp. onion powders, 2 tsp. paprika, 2 Tbsp. oregano, 2 tsp. black pepper and 2 tsp. cayenne pepper (if desired).
Carrot and cabbage slaw makes for a crunchy side dish.
---
Nutrition Facts
Per Serving:
401 calories; fat 12.1g; saturated fat 2.8g; mono fat 4.6g; poly fat 3.2g; protein 30.7g; carbohydrates 44.2g; fiber 2.7g; cholesterol 172mg; iron 4.4mg; sodium 944mg; calcium 152mg