3/1/20: Irish Cooking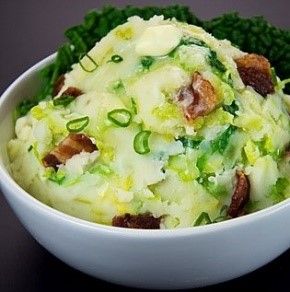 Since March is the month of St. Patrick's Day, I thought it would be interesting to do a little research on traditional Irish cooking.  Most of us know about Irish soda bread and corned beef and cabbage, as well as fish and chips.  But there is much more to know about the cuisine of this island.  Most of the cooking done there is reflective of the farming roots of the Irish people.  Despite having an enormous coastline, seafood has not been a hugely prominent food in the Irish diet for various reasons, largely because it was associated with poverty.  It is enjoying a resurgence in popularity recently.  And, interestingly, seaweed has always been a part of the diet.  Other common foods include the following:
Dairy: butter, milk, buttermilk, cheese
Grains: barley, oats, wheat
Freshwater fish: pollen, trout, salmon, smoked salmon, smoked trout
Seafood: mackerel, cod, hake, haddock, smoked haddock, mussels, oysters, lobster, crab
Meat: beef, chicken, lamb, pork, turkey, goose, offal
Vegetables: curly kale, potatoes, carrots, onions, cabbage, rhubarb
Fruits: apple, pear, plum, blackberry, strawberry, raspberry, tomatoes
Other types of breads that are commonly eaten include brambrack, a currant-containing bread, and potato bread.
Potatoes, of course, were, and still are, common.  Potato dishes include boxty, a type of potato pancake; champ, mashed potatoes with scallions, milk and butter, and colcannon, mashed potatoes with cabbage or kale and butter. 
Other common dishes include bangers and mash (sausage with mashed potatoes), Irish stew containing lamb or mutton, and shepherd's pie.
We have made the colcannon below in cooking class here at Matt Talbot.  It's a good way to use root vegetables that have been stored through the long winter.
---
Diane's Colcannon
2 ½ lbs. (5 cups) potatoes, peeled and cubed
4 slices bacon                                                             ½ cup milk
½ small head cabbage, chopped                                salt and pepper, to taste
1 large onion, chopped                                               ¼ cup butter, melted
Place potatoes in a saucepan with enough water to cover.  Bring to a boil and cook for 15-20 minutes, until tender. 
Place bacon in a large, deep skillet.  Cook over medium heat until evenly brown.  Drain, reserving drippings.  Crumble and set aside.  In the reserved drippings, sauté the cabbage and onion until soft and translucent. 
Drain the cooked potatoes, mash with milk and season with salt and pepper.  Fold in the bacon, cabbage, and onions and transfer to a large serving bowl.  Make a well in the center and pour in the melted butter.  Serve immediately.  8 servings. 
From AllRecipes.