3/1/19: Easy Baked Reuben Casserole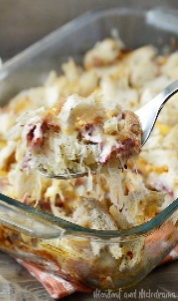 Do you love Reuben sandwiches but find them a bit messy?  Here is an alternative to sandwiches that you can make in one dish for ease of preparation and ease of clean-up as well.  It contains three food groups—protein, vegetables and grain.  So you could have a piece of fruit and add a glass of milk or serving of yogurt to your meal and have included all five of the food groups.  This is a great comfort food dish just in time for St. Patrick's Day!
Easy Baked Reuben Casserole (Serves 10)
Ingredients
· 1 lb. sauerkraut, rinsed and drained, with most of the liquid squeezed out
· ½ tsp. black pepper                                                        
· 1 tsp. sea salt
· 1 lb. sliced corned beef
· 12 slices or 2 cups shredded Swiss cheese
· ¼ cup Thousand Island or Russian dressing
· 6 slices rye bread
· 2 Tbsp. melted butter
Instructions
1. Preheat the oven to 350 degrees.
2. Grease a 9 X 13" baking dish with cooking spray, oil or butter.
3. Tear the corned beef, bread, and the cheese (if using slices) into pieces.
4. Spread the sauerkraut evenly over the bottom of the baking dish and season with sea salt and pepper.
5. Layer the pieces of corned beef over the sauerkraut.
6. Layer the pieces of cheese (or the shredded cheese) over the beef.
7. Spread the dressing evenly over the cheese.
8. Top with pieces of rye bread.
9. Drizzle the melted butter over the bread.
10. Bake for 30 minutes or until the bread is browned and the cheese is  bubbly.
11. Remove from the oven, slice and serve warm.
Recipe slightly modified from meatloafandmelodrama.com. My cooking class participants had requested a recipe like this and enjoyed making it in class (as well as eating it!)