2/1/21: Fudge Brownies for a Sweet Treat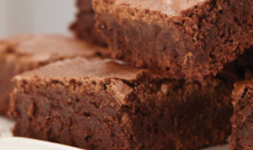 Almost everyone likes chocolate and Valentine's Day will soon be here. We love sharing sweet treats with our family and friends, especially this time of year, it seems. 
Below is a recipe from the American Heart Association, since February is also American Heart Month. Unsweetened cocoa powder and a stevia sugar blend keep the saturated fat and added sugars in check. This recipe contains only 9 grams of sugar, compared to perhaps twice that amount in a regular brownie. The Heart Association recommends that men limit their intake of added sugars to 36 g (9 tsp.) and women and children to 25 g (6 tsp.) daily to reduce their risk of heart disease.
---
Fudge Brownies (Serves 16,  Serving Size = 1 brownie)
Ingredients
· Cooking spray
· 1/2 cup corn or canola oil
· 15 drops chocolate-flavored liquid stevia sweetener
· 1/4 teaspoon salt
· 1/2 cup unsweetened cocoa powder
· 3 large eggs
· 1 cup all-purpose flour
· ½ cup slivered or sliced almonds, optional
· 3/4 cup stevia sugar blend
Directions
Preheat the oven to 350°F. Lightly spray an 8-inch square baking pan with cooking spray.                                                                     
In a large bowl, stir together the stevia sugar blend, oil, liquid stevia sweetener, and salt until well blended. Add the cocoa powder. Stir together until well blended. Add the eggs, one at a time, blending well. Gradually add the flour, stirring just until no flour is visible. Stir in the almonds. Spoon the batter into the pan. Bake for 25 to 30 minutes, or until the brownies start to pull away from the pan and a wooden toothpick inserted into the center comes out clean. Transfer the pan to a cooling rack. Let cool completely.