2/1/19: Balsamic Chicken and Roasted Vegetables (Easy One-Pan Dinner)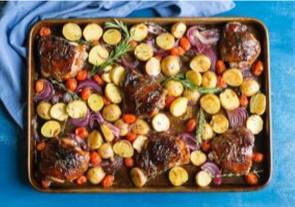 I am into the ease of cooking an entire meal in one pan, thus making cooking and clean-up simple.  I found a website where the author, Sheena Strain, has collected 20 single-pan recipes.  Below is one of them.  If you are not familiar with the flavors of rosemary, thyme and balsamic vinegar, this is a great recipe to try them out.  Plus you have your protein, vegetables and a starchy vegetable all in one dish.  Easy peazy and delicious!
Prep Time: 15 minutes    
Total Carbs:  22 g
Cook Time: 1 hour          
Protein:  22 g
Total Time: 1 hour 15minutes
Servings: 6
Ingredients                                                                            
· 6 chicken thighs, skin on, bone in                          
· 24 oz. baby gold potatoes, halved
· 1 large red onion               
· 1 Tbsp. fresh rosemary, chopped                       
· 2 sprigs fresh thyme, remove the leaves
· 1/2 tsp. pepper
· 1/2 tsp. salt
· 1.5 cups cherry tomatoes
Marinade
· ¾ cup aged balsamic vinegar
· 2 Tbsp. olive oil                                                    
· 1 clove garlic, crushed                         
· 2 Tbsp. Dijon mustard
Instructions
1.  Turn on your oven to 400° F or 200° C.
2.  Mix the marinade together and add the chicken, toss it around to coat it and put it in the fridge.
3.  Get out a half sheet pan. You can line it with parchment for easy clean up, I find that the food will stick to foil-lined pans, so I no longer use that as a liner. 
4.  Toss the halved potatoes and onions in a small amount of olive oil, and then place the potatoes only on the sheet pan and bake for 15 minutes. Put the onions to one side.
5.  After 15 minutes, remove the sheet pan and add the red onion and the chicken along with the marinade, then sprinkle on the chopped rosemary and thyme and a little salt and pepper, and put it back in the oven.
6.  Cook for a further 25 minutes, then take out the pan again to add the cherry tomatoes, and cook for 20 minutes more.
7.  After 45 minutes the chicken thighs should be fully cooked to an internal temperature of 165°F, at which time you can serve the dish!