12/1/20: A Potato and Curry Galette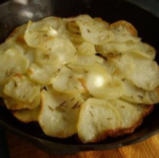 If you like eastern food, this is a recipe for you.  And, if you, like me, weren't sure what a galette is, here is the definition: a food prepared and served in the shape of a flat, round cake.  (I had to look it up, even though I have made this dish.)  It is really tasty and bursting with anti-oxidants, which help keep our immune systems healthy, something we all need with this ongoing pandemic!  It is also a great way to use up the end-of-season greens you might have in your garden, as well as potatoes you might be storing from this past summer's bounty. Hope you enjoy it.
Ingredients
· 1 tsp. olive oil
· 1 onion, finely chopped
· 1 garlic clove, chopped
· 2 tsp. curry powder
· 1 tsp. ground turmeric
· 1 pinch ground ginger, or more, to taste
· 1 pinch cayenne pepper (optional)
· 1 bunch (6-8 cups, 5-6 oz. ) kale (or other greens),stems removed and leaves coarsely chopped
· 3 potatoes, peeled and thinly sliced
· salt and ground black pepper to taste
· 1/4 cup melted butter
· 1/4 cup shredded cheddar cheese, or more, to taste (optional)
Directions
Preheat oven to 425 degrees F (220 degrees C). Lightly grease a 2-quart casserole dish.
Heat olive oil in skillet over medium heat; cook and stir onion and garlic until onion is softened, about 5 minutes. Add curry powder, turmeric, ginger, and cayenne pepper; stir to coat. Add kale; cover and simmer, stirring occasionally, until kale is tender and wilted, 5 to 10 minutes.
Cover the bottom of the prepared casserole dish with a layer of potato slices; top with a layer of kale mixture. Season with salt and black pepper. Continue layering with remaining potatoes and kale