11/1/20: Nutritious Greens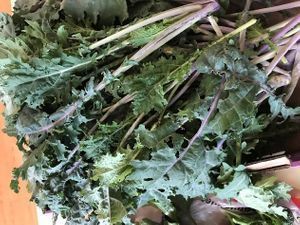 Greens are the leaves and stems of plants that are eaten as vegetables. They include kale; Swiss chard; spinach; collard, mustard, beet, turnip and dandelion greens; microgreens; Romaine lettuce; watercress; Bok choy; cabbage and arugula, as well as leaf, butter and iceberg lettuce.  With the exception of the last four, they are very nutritious, being sources of Vitamins A, C, E, and K, depending on which ones are being consumed.  Some are also dietary sources of folate (a B vitamin), minerals such as calcium and manganese and anti-oxidants such as lutein and beta carotene. 
We did the last harvest in our HOPE garden for the year prior to the deep freeze that hit Lincoln during the third week of October.  We had large quantities of kale and Swiss chard, two of the most nutritious greens eaten in this country.  Kale is an excellent source of vitamins K, A and C and a good source of calcium.  It also contains lutein and beta carotene, both useful in protecting the health of our eyes.  Swiss chard is also an excellent source of vitamin K and a good source of vitamins A and C.  Below are pictures of what we harvested and a recipe that contains Swiss chard or kale.  We have made it in our cooking classes here at Matt Talbot; it is quite delicious.
Tuscan Sausage, Potato and Chard Soup
Ingredients;
1 lb. bulk mild Italian sausage       
6 cups water                                                                                                
1 onion, chopped                                                                             
1 red bell pepper, chopped
½ tsp. red pepper flakes
½ tsp. ground black pepper
1 tsp. garlic salt
½ tsp. dried oregano (1 ½ tsp. fresh)
1 tsp. Italian seasoning
3 cups potatoes cubed
1 bunch Swiss chard or kale, stems chopped and leaves torn into bite-sized pieces
2 cubes chicken bouillon                 
Parmesan cheese
---
Directions:
1.       Wash and prepare all vegetables.
2.       Heat a large pot over medium-high heat.  Crumble sausage into pot and stir until browned, about 5-10 minutes.  Drain and discard any grease.
3.       Stir onion and bell pepper into sausage; cook and stir until vegetables begin to soften, about 3 minutes.
4.       Pour water into the pot; add potatoes, bouillon and seasonings.  Bring to a boil and reduce heat to low.  Cover pot and simmer until potatoes are tender, about 30 minutes.  Add Swiss chard or kale and simmer until it is tender, about 10-15 additional minutes.
5.       Sprinkle with Parmesan cheese before serving.