10/1/20: Thai Peanut Butter and Pumpkin Soup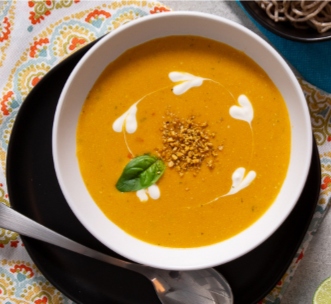 Here is a recipe for a pumpkin soup that also uses peanut butter. This recipe also happens to be vegan. People eat vegan for a variety of reasons, including health benefits, helping sustain the environment and for humane animal treatment. Pumpkins are plentiful this time of year and I love trying foods from different cultures. You might want to omit the Sriracha sauce and lighten up on the Thai red curry paste if you are a wimp about hot foods, like I am. But it's a good way to use up some of the pumpkins you might have on hand.  And pumpkins are a great source of Vitamin A, as you can see from the nutrition information below.
10-Minute Thai Peanut Butter & Pumpkin Soup
Author: Sam Turnbull • It Doesn't Taste Like Chicken
Ingredients
· 2 tablespoons Thai red curry paste
· 1 L vegetable broth (4 cups)
· 1 796ml can pumpkin purée (3 1/2 Cups)
· 1/4 cup natural peanut butter
· 1 cup coconut milk
· 2 tablespoons soy sauce (or to taste)
· 2 tablespoons agave or maple syrup
· 2 tablespoons Sriracha (optional)
· Lime, cilantro, coconut milk, or more Sriracha for garnish
Directions
1. Heat a big pot over medium-high heat. Add the Thai red curry paste, and stir or whisk as it's heating up. After about 1 minute it will to stick to the pan and become fragrant.
2. Then add all of the remaining ingredients: vegetable broth, pumpkin, peanut butter, coconut milk, soy sauce, agave, and sriracha. Whisk well to combine. Cook until it's completely heated through.
3. Garnish with a wedge of lime, some cilantro, sriracha, a drizzle of coconut milk, or enjoy just as it is.
---
Nutrition
Calories: 132kcal | Carbohydrates: 8g | Protein: 3g | Fat: 10g | Saturated Fat: 6g | Sodium: 878mg | Potassium: 128mg | Sugar: 5g | Vitamin A: 875 IU | Vitamin C: 3.1mg | Calcium: 14mg | Iron: 1.3mg