10/1/19: Healthy Meal Planning Tips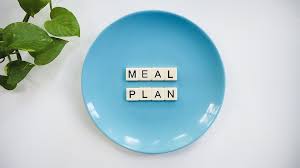 There are lots of great ideas on the website for "Have a Plant:  Fruits and Vegetables for Better Health".  And who doesn't want help with meal planning ideas, especially when it is late afternoon and you have no idea what to have for supper?  So, rather than run to a fast food restaurant, they have ideas for before shopping, while shopping and after shopping so that you don't have those last-minute crises of having no idea what to prepare for your evening meal.  Plus, their ideas contain how to include the recommended daily amounts of fruits and vegetables to help ensure good health.
The single best idea they suggest is to make a weekly menu and shopping list.  Then, before you go shopping they suggest looking at the weekly ads, choosing recipes and making a list.  This will help you choose foods that are good bargains and to not veer from the planned meals.  Choosing foods that are in season will save you money and give you the best quality of produce.
While you are shopping, you can look for unadvertised sales, check the brands and check the prices.  The off brands are often of the same quality as the name brands.  Larger packages of items are not always the best prices.  Look at or calculate the unit prices of foods.  Taking your children with you can help them learn valuable lessons about how to do these things themselves.
After you have shopped, plan to use perishable fresh fruits and vegetables soon after shopping so they do not spoil.  Use canned, frozen or dried items later as they will not spoil and be wasted.  Preparing items ahead of time, such as peeling and chopping produce, will save you time at the busy meal time. Plan the use of leftovers.  Cook twice as much and use it for two dishes.  For example, bake a chicken and serve the chicken at one meal and use the leftovers to make a casserole the next.  Take the leftovers for lunches.  Have a "leftovers night" and serve the leftovers you have in your fridge.
Learn more here. 
Happy meal planning!