Information about Providing Meals During the COVID-19 Pandemic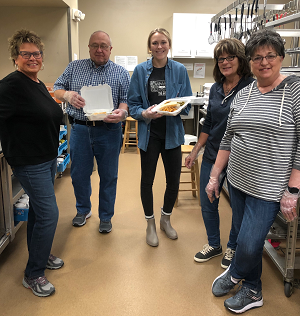 I hope you are doing well and staying healthy during these challenging days. On behalf of the entire Matt Talbot team, thank you for all you do (and it's a lot!) for the working poor and homeless. 
Here is some information about meal service at Matt Talbot during the COVID-19 pandemic. 
Boxed/ bagged meals will be provided for lunch and dinner meals. To comply with social distancing recommendations, guests will be asked to leave the facility and the property once they receive their meal. The dining room will not be available for seating.
We only let 10 guests in at a time. They are required to wash their hands in the restrooms and then use hand sanitizer before picking up their drink and meal. Once the meals are picked up, the guests leave through the east door of the dining room.  
Matt Talbot is supplying bottled water and milk which will be set up in the dining room by the "drink window".  The metal curtain remains closed in front of the serving line at all times.  As takeout containers are filled they are placed in the "drink window" for guests to pick up.  So, there is very little contact with our guests and lots of physical distancing.
Lunches on Monday through Friday are served from 11:00 to 1:00 and the evening meals Monday through Friday are served from 5:00 to 6:30. This allows our guests ample time to get to the Kitchen for a meal. Remember our city bus schedule times have been reduced. Lunches and the evening meal on weekends are scheduled for the regular times of 11:30 to 12:30 and 5:30 to 6:30.
And there is more:
We would like the boxed/bagged meals to be provided, prepared, packaged and distributed by our hunger relief teams. However, if you are not comfortable or not able to, we understand and just ask that you let us know as soon as possible.
Though the meals will be "to go" we are not planning to use takeout food ordered from a restaurant. The meals will be prepared by volunteers, or when necessary, Matt Talbot staff. Please remember, our local restaurants would love to hear from you if you'd like to hire someone to cater the meal. 
Due to the increased demand, the Food Bank is no longer able to provide Matt Talbot with USDA items. Please plan your meals accordingly.
Please limit the number of volunteers coming to the kitchen to no more than three people. It works very well to have your meal prepped before coming to the kitchen if possible. Only two people are needed to serve the meal and MTKO staff can serve the meal for your team if your team members choose not to stay.
We are asking community members of all ages to mail us "notes to go" which include words of encouragement, art and positive messages. Hunger relief teams will include one of these notes with each meal distributed. 
Please bring and wear a face covering while at the kitchen. If you do not have a face covering (or forget to bring one), we will provide you with one. 
Please do not volunteer if you have traveled out of state or are experiencing any symptoms of illness. 
All volunteers are asked to scrub hands with disinfectant soap upon arrival, at breaks and at the end of their shift(s).
All volunteers are asked to take their temperatures (thermometer is provided). 
Hand sanitizer and disinfectant solution is available in multiple areas around our facility.
Scheduled disinfecting activity occurs frequently in offices and public spaces and at least three times a day.
Thank you all for the additional efforts that have been made during this unusual time.
I can't wait to give each of you a big hug when the time is appropriate.  Please stay healthy!
- Sydne