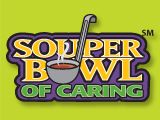 Souper Bowl of Caring is an ecumenical, youth-led movement that empowers congregations to collect dollars and food for local charities.  Since 1990, groups throughout the country have teamed up around the time of the Super Bowl to be a champion for their neighbors in need.  This event is a simple and meaningful way to learn about the needs of the community and to do something to help. 
It is a chance to see first-hand that when we all work together, big things can happen. 
Thanks to everyone who participated in the 2016 Super Bowl of Caring. From as far away as Holdrege to right here in Lincoln, churches and other groups collected contributions to help us feed the hungry and the homeless.  Thank you for helping us score a victory in the fight against hunger!