Yummy Veggie Sides for the Holidays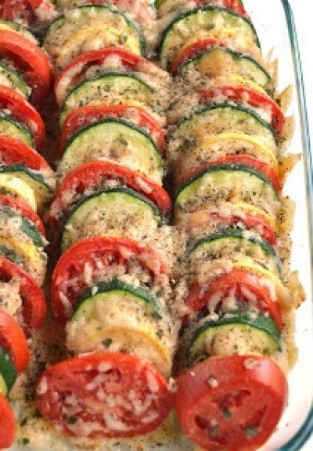 Tired of the same ole green bean casserole for the holidays? Ready to try something new? Here are some ideas for possible alternatives to change up your holiday tables a bit. And to boot—tomatoes, carrots and cauliflower are all chock-full of good nutrition. If you are looking for other ideas, Pinterest is full of them—just like these!
Parmesan Tomato Zucchini Bake
Preparation: 10 min.
Cook: 25-30 min.
Serves: 6
Ingredients
2 medium zucchini, sliced
2 medium yellow squash, sliced
5 medium tomatoes, sliced
1/2 cup quality Parmesan cheese, shredded
½ tsp. black pepper
¾ tsp. garlic powder
¾ tsp. onion powder
½ tsp. Italian spices
Instructions
1. Preheat oven to 375 degrees.
2. In a baking dish, arrange zucchini, yellow squash and tomatoes in an alternating pattern (as seen in the photos).
3. Top with cheese and spices. Place into oven and bake for 25-30 minutes or until squash is soft.
*****
Garlic Parmesan Roasted Cauliflower
Preparation: 10 min.
Cook time: 30 min.
Serves: 4
1 large head cauliflower, cut into florets
1 Tbsp. extra-virgin olive oil
Salt and ground fresh black pepper to taste
¼ teaspoon black pepper
1 Tbsp. garlic, minced
1 tsp. paprika
½ cup grated Parmesan cheese
Fresh parsley, chopped
Instructions:
1. Preheat oven to 400 degrees F.
2. Line a baking sheet with foil.
3. In a large bowl, add cauliflower florets, olive oil, salt, pepper, garlic and paprika and mix everything well to combine.
4. Transfer everything to the prepared baking sheet. The florets should be in a single layer.
5. Bake the cauliflower for 15 minutes.
6. Turn the florets to the other side, sprinkle with the Parmesan cheese and bake 15 more minutes.
7. Serve in a casserole and garnish with parsley.
*****
Brown Butter Honey Garlic Carrots
Preparation: 5 min.
Cook: 20 min.
Serves: 4-6
Ingredients
2 pounds large carrots, cut into 2 inch pieces (baby carrots will also work)
2 garlic cloves, chopped
salt and pepper
½ cup butter
3 Tbsp. honey
parsley, chopped for garnish
Instructions
Preheat oven to 425 degrees. In a medium saucepan add the butter and cook over medium high heat. Continue to whisk for a few minutes until the butter starts to become frothy and brown. Add the honey and garlic and remove from heat.
1. In a large bowl add the carrots and drizzle the sauce on top. Toss until coated and spread evenly on a large baking sheet. Season with salt and pepper.
2. Bake for 15-20 minutes or until carrots are tender. (see note) Transfer to a serving dish and garnish with parsley. Serve immediately.
NOTES
** I like to cover with foil for the first 10 minutes and then remove and let roast and brown for the last 10 minutes.