8/1/17: Garden Abundance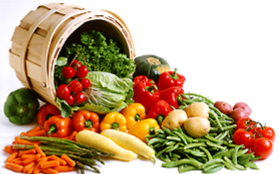 It's that time of year when the fruits of our labors earlier this spring and summer, for those of us who are gardeners, are starting to show up in the garden. Veggies like tomatoes, summer squash, peppers, eggplant, cucumbers, okra, and some of the greens like kale and chard are yielding their produce at this time of year. You know it's really summer when your neighbors start bringing over their extra zucchinis for you!
Since there is always an abundance of these luscious summer vegetables this time of year, a number of years ago I started looking for additional recipes that use them. Ratatouille is an easy, one-pan dish that originated in the Provence region of France. It contains seasonal vegetables, including eggplant, summer squash, and peppers, as well as garlic, herbs and oil. It can be eaten as a side dish, served over a grain like rice or couscous, or have meat added to it for a simple main dish.
Zucchini and yellow summer squash are extremely versatile vegetables that can be used any number of ways. I have a fairly good assortment of squash recipes, including zucchini cakes and frittata, sautéed vegetables with summer squash, using them on pizza and stuffing them (you know—the baseball bat-sized ones you miss under the foliage). Here is the frittata recipe, if you'd like to try it. It's all done on top of the stove, so no oven is even required.
Zucchini Frittata
6 large eggs (or equivalent egg sub)
1 medium onion, thinly sliced
Salt and freshly ground pepper
3 zucchini, finely sliced
1/3 cup freshly grated Parmesan cheese
2 Tbsp. chopped parsley
¼ cup butter
2 garlic cloves, chopped
1 Tbsp. olive oil
1. Beat eggs with salt and pepper in a medium bowl. Beat in Parmesan cheese.
2. Melt 3 Tbsp. butter with oil in a heavy 8- to 10-inch skillet. When butter foams, add onion. Sauté over medium-low heat about 1 minute. Add zucchini, parsley, and garlic. Sauté 3 to 4 minutes or until lightly browned.
3. Remove zucchini mixture with a slotted spoon. Stir into egg mixture. Melt remaining butter in skillet. When butter foams, add egg mixture. Cook over medium heat 5 to 6 minutes or until bottom of frittata is lightly browned. Place a large plate on top of skillet and turn frittata onto plate. Slide inverted frittata back into skillet. Cook 4 to 5 minutes longer.
4. Slide frittata onto a warm serving dish. Cut into 4 wedges. Serve hot or at room temperature.
Makes 4 servings.
From Bon Appetit, May 2000