7/1/18: Planning Meals for Cooking Classes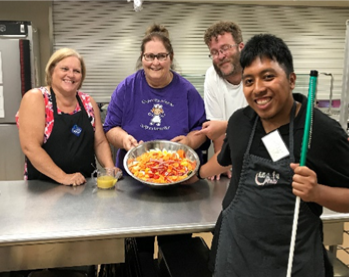 by Janet Buck, MS, RD, LMNT, Nutrition Coordinator
We have ongoing cooking classes, both for adults and children, here at Matt Talbot. We always have all five of the food groups from Choose My Plate in the meal we prepare for the adult cooking class. I use the Choose My Plate guidelines in planning what we will make for any specific class. That is, I make sure to include all five of the food groups in the meals we make. I also try to use seasonal foods in the classes. We often have produce from Hope Garden in season that is mature and ready to harvest and use. Sometimes we receive donations from others' gardens and incorporate that into the meals as well. Not only is the seasonal produce abundant and tasty but it is also much less expensive when it is in season. That is one of the points I try to make with the students who come to our classes, who are usually on fixed incomes. Any hints to help class participants with budgeting can be helpful. There are many tips about acquiring foods that can help folks to save money besides buying foods in season, such as buying in quantity and freezing the extra. It is easy, for instance, to buy a large quantity of blueberries in season, wash them and freeze in small quantities for use throughout the rest of the year.
Another lesson I try to teach in the classes is that you don't have to include meat in a meal for it to be balanced and include all the food groups. For example, we often make tacos or burritos using beans as the protein source for that meal. And, of course, not having meat in the meal makes it less costly.
Last week we had lettuce, radishes and onions from Matt Talbot's Hope Garden. Class members wanted to make a salad so we decided to make a chef salad, since that would include protein as well as veggies. We counted our tomatoes as fruit in that salad. Since we still needed a dairy food and a grain food, we made rice pudding to go along with the salad. Here are a couple of photos with some of the class members, helpers, and their creations.
For more information, contact Janet Buck at janet.buck@mtko.org or 402-477-4116.