5/1/18: Planning Healthy Meals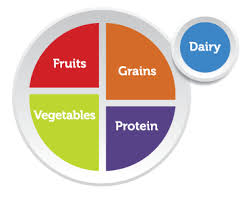 Do you ever wonder, not only what to eat, but whether your meals are complete, healthy and nutritious? The US Departments of Agriculture and Health and Human Services have been working on just those issues for Americans and have developed the "Choose My Plate" model for healthy meals. There is a lot of helpful information on their website but one item they have that addresses the never-ending question of what to eat is a tip sheet called Build a Healthy Meal. It contains 10 tips for how to plan a (guess what?) healthy meal.
I will talk about the first five tips in this newsletter and address the last five in the next one.
Each meal is a building block in your healthy eating style. Make sure to include all the food groups throughout the day. Make fruits, vegetables, grains, dairy, and protein foods part of your daily meals and snacks. Also, limit added sugars, saturated fat, and sodium.
1. Make half your plate veggies and fruits. Vegetables and fruits are full of nutrients that support good health. Choose fruits and red, orange, and dark-green vegetables such as tomatoes, sweet potatoes, and broccoli.
2. Include whole grains. Aim to make at least half your grains whole grains. Look for the words "100% whole grain" or "100% whole wheat" on the food label. Whole grains provide more nutrients, like fiber, than refined grains.
3. Don't forget the dairy. Complete your meal with a cup of fat-free or low-fat milk. You will get the same amount of calcium and other essential nutrients as whole milk but fewer calories. Don't drink milk? Try a soy beverage (soymilk) as your drink or include low-fat yogurt in your meal or snack.
4. Add lean protein. Choose protein foods such as lean beef, pork, chicken, or turkey, and eggs, nuts, beans, or tofu. Twice a week, make seafood the protein on your plate.
5. Avoid extra fat. Using heavy gravies or sauces will add fat and calories to otherwise healthy choices. Try steamed broccoli with a sprinkling of low-fat parmesan cheese or a squeeze of lemon.