2/1/18: Kids CAFE in the Winter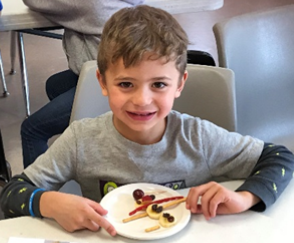 Our Kids CAFÉ (Children and Food Education) classes are still going strong this winter. These are classes to help teach children about healthy snack choices and fun physical activity. Each month we make a seasonally-themed snack with the kids, plus have them do a physical activity that usually also helps them learn about good nutrition. And, of course, they are doing physical activity that is also fun for them.
We have a couple of relatively new collaborators with the CAFÉ classes, one being Sacred Heart School here in Lincoln. The children come to the class, which we are holding at the Sacred Heart gym, directly after school is dismissed and stay for an hour, making their snacks and doing their activity, and learning about good nutrition and the importance of physical activity at the same time. These classes are held monthly during the school year. We have had tremendous response and attendance at these classes. We are continuing to have daytime CAFÉ classes during the school breaks this academic year as well.
Early in January, while the children were still on winter break, we held a CAFÉ class at the Cooper YMCA in southwest Lincoln. I had two international students who volunteered to come help with those classes. The pictures below show some of the participants in that class. They made fruit, nut, and pretzel stick snowmen and had a relay where they had to race doing animal movements (think hopping like a frog). Based on the level of noise and participation, I would say the children had a wonderful time in the class.