10/1/18: Maintaining HOPE (Garden, that is!)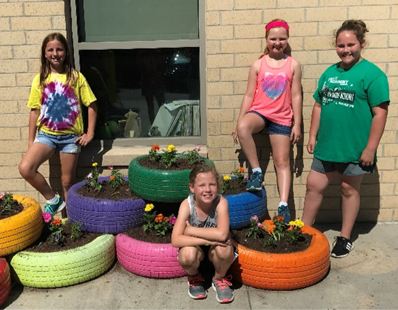 As we approach the end of the 2018 gardening season, it seems appropriate to recognize all the tremendous help we have had over the spring, through the summer, and now into fall with helping keep our grounds and garden beautiful. It truly does take a village to help maintain the grounds and garden we have here at Matt Talbot. It began April of this year when we had a very generous donation of wood chip mulch from General Excavating here in Lincoln. General Excavating first approached us when we moved to the 27th Street location back in 2010 and asked if they could donate anything to help us. The mulch sprang to mind since we were just beginning our garden here. And every spring since then they have given us a most generous donation of a load of chips, plus they have delivered it to us without charge. We are so exceedingly grateful to them for this most substantial donation, which helps with keeping our grounds attractive. Then there were the folks who came and helped us spread the mulch around the building and garden, no small task.  Thanks to them for their role in beatifying the HOPE Garden as well as our grounds.
In addition the Girl Scout troop 20754 prepared the colorful tire beds and planted them this spring. The tires have been absolutely gorgeous all summer and have provided much splendor near the back door.
There have been a multitude of other helpers throughout the season, including Myrna Stanard, Zane Brainard and Trevor Zuerlein. These folks helped us with planting, keeping the weeds down, watering during the dry spell, and deadheading, all jobs that continue during the growing season. Karen Gagner has helped with keeping the plants in the pots watered and looking lovely all summer. We have also had groups from UNL, Nebraska Wesleyan University, and First Evangelical Free Church come to help us. 
We have continued our collaboration with Community CROPS gardeners, who have maintained some of the garden space for their own family.
And, finally, I want to especially mention the two gardeners who have come faithfully throughout the whole season, never hesitating, despite the heat, humidity and bugs, to show up and contribute their energy and talents to the HOPE Garden. These individuals are Maurice Bonne and Bertha Mesarch. Maurice has been a regular here at Matt Talbot for several years, helping us get the HOPE Garden going through out the grounds. He plants bulbs in the fall that bloom in the spring and ones in the spring that bloom in the summer and fall. He immediately set to work planting flowers around the new garage once the construction was done on it. It is his work that you see to the west of the garage currently. One never knows where a flower will show up that has been his doing. Bertha just moved to Lincoln from Pennsylvania a year ago in May. She is a Master Gardener and wanted to contribute to her new community. Since I knew she was looking for gardening projects and we could use her expertise here in HOPE, we connected. She came all summer 2017 and has been a regular again this past summer.
Thank you so VERY MUCH to everyone who has helped out. We literally could not do it without you all!!! Our apologies if we have forgotten anyone.  There have been so many volunteers that we might have overlooked mentioning someone. Know that your help was appreciated as well.