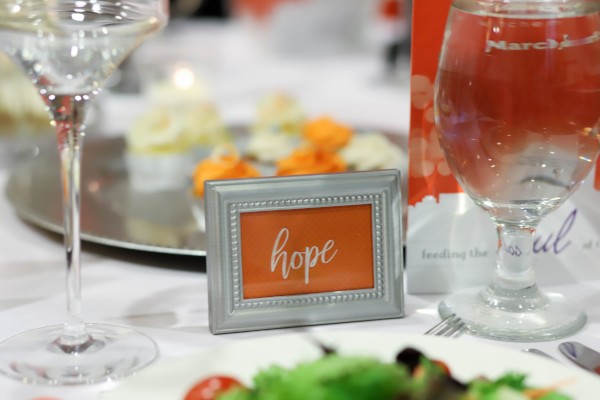 Celebrating 25 years at "Feeding the Soul of the City"
Matt Talbot Kitchen & Outreach hosted the13th annual Feeding the Soul of the City dinner and fundraising event on March 22, 2018, at the Cornhusker Marriott Hotel.  Because of the generosity of 48 corporate and individual sponsors, the 335 guests who attended, and the many who gave donations prior to the event, Matt Talbot raised a gross amount of approximately $140,000.  Money raised will support the day-to-day hunger relief and homeless prevention services of the community kitchen and outreach center. 
 "This is a special year for us as we celebrate our 25th anniversary," said Susanne Blue, Executive Director.  "We are honored to have volunteers, corporate partners, agency collaborators and community members either support or come to this event to celebrate our collective efforts to defeat hunger and homelessness in Lincoln."
"With limited resources it is critical that human services agencies from the public and private sectors work together to find ways to meet the needs of the underserved in our community," said Susanne Blue.  "Honoring our partners with Compassion in Action Awards is one of my favorite things to do.  The only way to truly meet the needs of the homeless is to work together to find solutions."  
---
"Compassion in Action" Award Winners
Individual Category
Greg Ernst - 2018
Ram Bishu- 2017
Jim & Mary Love - 2016
Joyce Champoux - 2015
Bill & Pat Lundak - 2014
Gene "Woody" Woodhead - 2013
Senator Mike Johanns and Stephanie Johanns - 2012
Tony Ojeda - 2011
Mary Costello-2010
Scott Young-2009
Ruth McKinstry-2008
Liz Hertel-2007
Mary Jo Bousek-2006
Collaboration Category
SNAP Outreach Program: Food Bank of Lincoln and DHHS Children & Family Services Division - 2018
Dennis Hoffman-CenterPointe-2017
Beatty Brasch and the Center for People in Need - 2016
Southwood Lutheran Church - 2015
Clinic With A Heart - 2014
Lincoln Lancaster County Health Department - 2013
The Lincoln Police Department Center Team - 2012
Wynn Hjermstad & Dave Landis, City Urban Development Dept. - 2011
First Plymouth Congregational Church -2010
Lincoln Housing Authority and Consumer Credit Counselors -2009
Union College Nursing & Physician Assistant Program-2008
Community Health Endowment of Lincoln-2007
Eye Surgical Associates, Lens Crafters, & Professional Eye Care – 2006